Centre for Postgraduate Studies and Research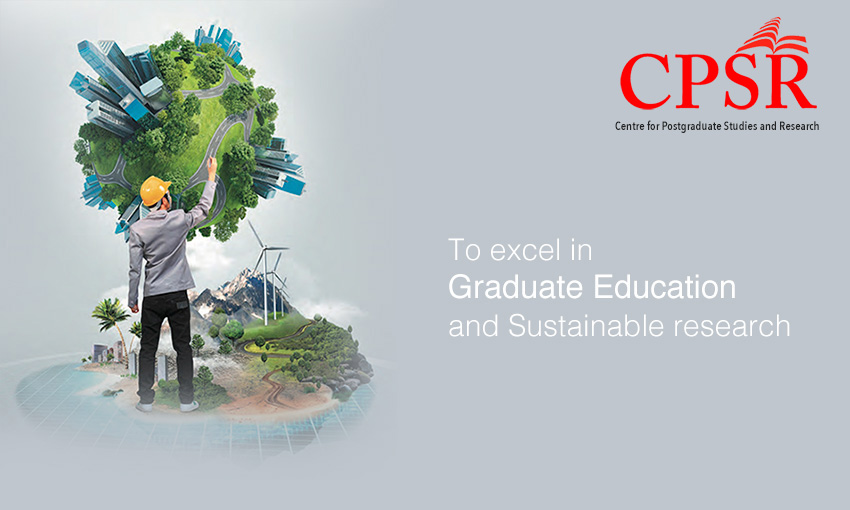 Faculty Introduction
Centre for Postgraduate Studies and Research (CPSR) is a new centre formed in November 2018 after merging the Centre for Postgraduate Studies (CPS) with Research Management Centre (RMC). Centre for Postgraduate Studies (CPS) which was established in 2009, has been renamed Postgraduate Studies Unit to continue serving the postgraduate community of the University; while Research Management Centre (RMC) which was established in 2009 has become Research Management Unit to continue supporting the University's research. CPSR strives to create an environment, which stimulates and encourages both intellectual and social exchange among postgraduate students, the research staff and faculty members.  
Postgraduate Studies Unit
The unit is responsible for the implementation, management and administration of graduate studies. We do this by providing quality academic services and assistance to students throughout their university experience from admission to graduation.
Apart from this, the unit also commits to provide a conducive environment by maintaining communication with relevant divisions and faculties to ensure the postgraduate programmes are well administered, monitored and assessed to achieve the highest quality in graduate education. This unit serves as a central body for coordinating and promoting all postgraduate programmes. Currently there are more than ten programmes offered; five at the Masters level and five at the PhD level. Our Postgraduate programmes have been recognised internationally and the university has admitted postgraduate students from various countries, including those sponsored by governments and organisations.
The unit encourages innovative learning via research, colloquiums, seminars, workshops and trainings by merging the academic and industry expertise. This is to ensure IUKL graduates can generate excellent academic and research outcomes and contribute in ensuring the sustainability of the environment, society and nation.
CPSR also serves as a central coordinating body for research and development activities undertaken in the University. RMU is responsible for of inculcating a research culture among the academic staff and facilitating the research and development activities by providing assistance to researchers including processing research fund applications and managing research grant utilisation. The unit also act as a resource for the researchers to obtain information related to research, regulatory and legal requirements and publications.
The role of the unit is to provide a "one stop" solution in managing and coordinating all matters related to research activities as well as ensuring the approved university policies and procedures are adhered to by researchers.
Vision
To become an academic centre of excellence in postgraduate studies and multidisciplinary research.
Mission
To nurture, promote and enhance academic advancement in graduate education and strengthen the University's research culture and environment, in the pursuit of academic and research excellence.
Academic Directory
Name
Designation
Room No
Ext No.
+603-8926 6993
Email Address
Dr. Norzita Yunus
Dean, CPSR
Block 9, CPSR office
352
norzita@iukl.edu.my
Annie Yap Ai Kin
Head, Research Management Unit
Block 9, CPSR office
607
annieyap@iukl.edu.my
Prof. Dr. Siti Maziha Mustapha
Head of Postgraduate Programme - Education
A220
356
maziha@iukl.edu.my
Dr. Zulkefli Muhamad Hanapiyah
Head of Postgraduate Programme - Business Administration
A305
879
zulkefli@iukl.edu.my
Prof. Dr. Faridah Ibrahim
Head of Postgraduate Programme - Communication
A003
599
faridah@iukl.edu.my
Dr. Golnoosh Manteghi
Head of Postgraduate Programme - Built Environment
B213
NA
golnoosh.manteghi@iukl.edu.my
Dr. ABM Amrul Kaish
Head of Postgraduate Programme - Civil Engineering
Block 9 - L1-Room 2
803
amrul.kaish@iukl.edu.my
Dr. Tadiwa Elisha Nyamasvisva
Head of Postgraduate Programme - Information Technology
Block 9 - L1-Room 4
683
tadiwa.elisha@iukl.edu.my
Idris Safar
Academic Executive
Block 9, CPSR office
743
idris@iukl.edu.my
Nur Amalina Samusi
Research Executive
Block 9, CPSR office
739
amalina@iukl.edu.my
What Should You Read Next!