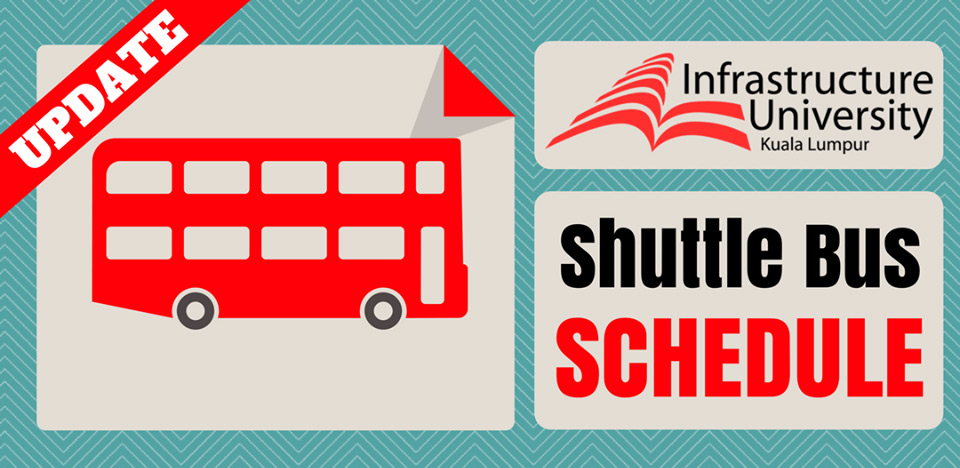 Note:
Due to technical problem and insufficient area for IUKL shuttle buses movement at Block 9 and Block 11 car park area, students drop off point will be at Masjid IKRAM.
During rainy days, shuttle buses will drop students at the road side in front of FABE and IKRAM Lodge whereby there is a covered pathway for students to walk to Block 9 and Block 11.
The other pick up and drop off points before Block 9 remain the same.
FROM 03/08/2020 - 31/08/2020
IUKL SHUTTLE BUS SERVICE TO KTM SERDANG & LRT SG BESI
WEEKDAYS
FROM IUKL
1ST STOP
2ND STOP
3RD STOP
4RD STOP
ARRIVE AT IUKL
DAYS
NO. OF TRIPS
BLOCK 9
BLOCK F
KTM SERDANG
LRT SG.BESI
OPPOSITE KTM SERDANG
BLOCK F
MONDAY TO FRIDAY
TRIP 1
7.30 AM
7.40 AM
7.45 AM
7.55 AM
8.05 AM
TRIP 2
9.00 A

M

9.10 AM
9.15 AM
9.25 AM
9.35 AM
TRIP 3
12.30 PM
12.40 PM
12.45 PM
12.55 PM
1.05 PM
TRIP 4
6.00 PM
6.10 PM
6.15 PM
6.25 PM
6.35 PM
Get Answers to your Questions