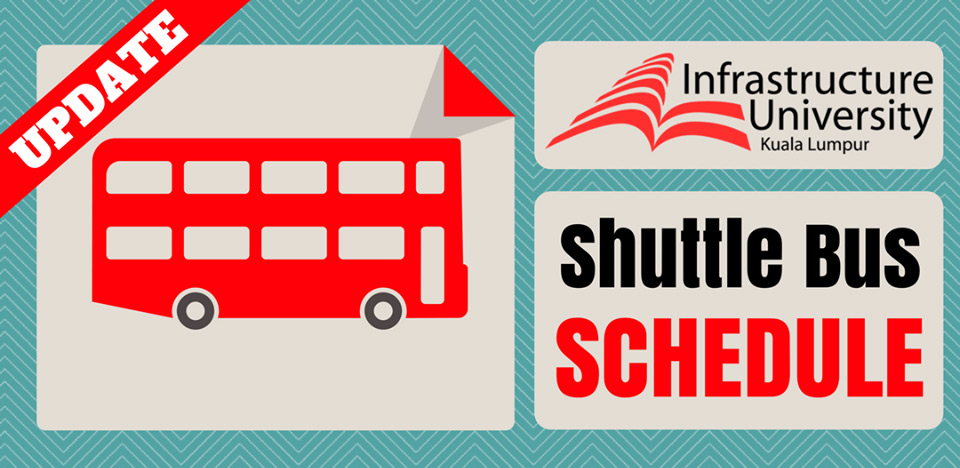 The first trip will start at 7:30am and depart from BLOCK 9 to KTM SERDANG STATION ONLY.
First stop will be at KTM SERDANG STATION and t he second stop is the opposite KTM Serdang Bus Stop.
Students going to / coming from Mines Shopping Mall will be dropped off / picked up at the opposite KTM Serdang Bus Stop.
Students who wish to go to Kuala Lumpur, can interchange the train at Terminal Bersepadu Station (TBS) from KTM Serdang Station.
The bus will only leave the designated area at the designated time.
All the student is requested to standby early 10 minutes from the time schedule given to avoid missing the bus.
The shuttle bus service is charged RM1.00 PER TRIP.
Please take note that the shuttle bus is not available on Public Holidays even if Public holidays fall on weekends or weekdays.
Kindly please be free to contact Mdm Yogesh at 0102407507 for any assistance regardless of the shuttle bus service.
The time of departure and/or intervals are merely indicative and are not conclusive nor guaranteed. The actual departure and/or interval time may vary according to traffic conditions.
IUKL SHUTTLE BUS SERVICE FROM IUKL TO KTM SERDANG STATION
WEEKDAYS
FROM IUKL
1ST STOP
2ND STOP
ARRIVE AT IUKL
DAYS
NO. OF TRIPS
BLOCK 9
KTM SERDANG
OPPOSITE KTM SERDANG
BLOCK 9
MONDAY TO FRIDAY
TRIP 1
7.15AM
7.25AM
7.35AM
7.50AM
TRIP 2
9.15AM
9.25A

M

9.35AM
9.50AM
TRIP 3
11.15AM
11.25PM
11.35AM
11.50AM
TRIP 4
2.30PM
2.40PM
2.50PM
3.05PM
TRIP 5
4.30PM
4.40PM
4.50PM
5.05PM
TRIP 6
6.30PM
6.40PM
6.50PM
7.05PM
IUKL – IOI CITY MALL & KTM SERDANG
WEEKDAYS
FROM IUKL
1ST STOP
2ND STOP
ARRIVE AT IUKL
DAYS
NO. OF TRIPS
DECENTRUM (PARK INN)
IOI CITY MALL
KTM SERDANG
DECENTRUM (PARK INN)
MONDAY TO FRIDAY
TRIP 1
10.00AM
10.10AM
10.45AM
10.50AM
TRIP 2
12.00PM
12.10PM
12.35PM
12.50PM
TRIP 3
2.30PM
2.40PM
3.05PM
3.20PM
Get Answers to your Questions