Being in the education industry for more than 20 years, IUKL has been providing quality education and excellent professional services in various fields. IUKL was rated 5 stars for the Teaching and Facilities category in the latest 2020 QS Rating System and the only Infrastructure University in Malaysia and we would like to champion ourselves in the area of infrastructure. We believe that 'infrastructure' is not only restricted to buildings, construction and technologies, but also includes soft 'infrastructure' such as communication, language skills, commerce and information technology.
All programmes offered by IUKL are approved by both the Ministry of Education and Malaysia Qualification Agency (MQA).
IUKL receives professional recognition from various local and international professional bodies – Board of Engineers Malaysia (BEM), Board of Architects Malaysia (LAM), Land Surveyors Board (LJT), Royal Institution of Surveyors Malaysia (RISM), Washington Accord, CISCO, International Organization for Standardization (ISO), Association of Chartered Certified Accountants (ACCA), among others.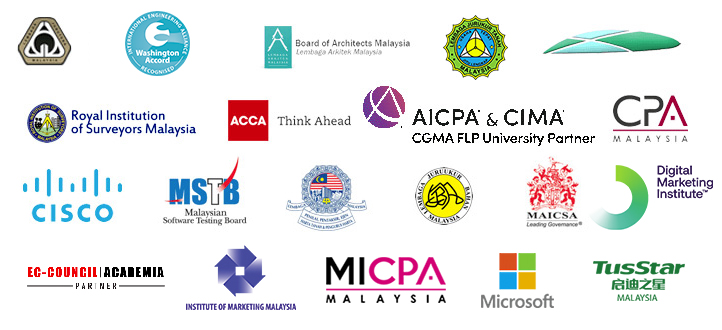 IUKL is set within the 100-acre De Centrum City, which is poised to become a modern township, well-equipped with numerous amenities for its students' needs, from cozy condominiums and hostel to commercial areas, within a secure and green environment.
United Kingdom
The Chartered Institute of Management Accountants
United States America
University Kansas Missouri
Frostberg State University
 Davis College
Nepal
Himalayan College of Management
Sunway International Business School
Southwestern Centre for Research and PhD Studies
Himalayan College of Management
Sunway International Business School
Palpa International College of Management and IT
Indonesia
Universitas Esa Unggul
University Mahasariswati Denpasar
Insitute Design and Business in Bali
Universitas Diponegoro
INSTITUT AGAMA ISLAM NEGERI (IAIN) PONOROGO
Kota Tangerang Selatan, Banten
Beijing Mule Shide, Education Consulting Co. LTD
Ireland
Athlone Institute of technology
Digital Marketing Institute
Japan
University of Miyazaki
Kanda University of International Studies
University of Miyazaki
Korea
Netherlands *
Hanze University of Applied Science
Argentina
Universidad Siglo
Universidad Empresarial Siglo 21
Brunei
University Teknologi Brunei
Oman
National College of Automotive Technology
Australia
Deakin University
Western Sydney University
China *
Guangzhou City Construction College
Zhengzhou Vocational College of Finance and Taxation
East China Jiatong  University, China
 Hankou University
Nanjing Institute of Railway Technology
Wuhan Technical College of Communications
Xiangsihu College Guangxi University Nationalities
Liaoning University
Xi'an Siyuan University
Golden Apple Training School
Yunchengshi Vocational School
Beijing Fengtai Vocational High School
Datong Shi Han Hai Vocational Training School
Datong Shi Pingsheng District Heng De School
Huairen Shi Ninth High School
Lingqiu County PingXingguan Vocational High School
Gungdong Industry Polytechnic
Guangxi Peixian International College
India
Ireu Tech Education
Co-hosted an international Faculty Development Programme (FDP)on the Quality of Teaching and Learning in Higher Education from 17-21 Oct 2022 with EEC.
SRM Institute of Science and Technology
SRM Easwari Engineering College
Audacious Dreams Foundation
Sethu Institute of Technology
Karpagam Academy Higher Education(KAHE)
Bangalore
Bangladesh
Sri Lanka
Sudan
Alofoug College of Science and Technology
Turkey
Istanbul Gelisim University
Russia
Scholarships & Loans
IUKL believes that education should be made available for everyone. Therefore at IUKL, there are various grants and scholarships available. In addition to IUKL Scholarship and Tuition Fee Waiver Scheme, students can also apply for loans and scholarship from MARA, PTPTN and EPF, among others.
Clubs and Societies
The Student Affairs Division provides avenues for students to explore their interests with practical experience through activities organised throughout the year. There are more than 50 clubs and societies at IUKL. Participation in clubs and societies provides hands-on experience for leadership and character development.
Career Development
The main aim of the IUKL Career Development unit is to help its students identify and choose the best career options available to them. The process of career planning and development starts as early as when the student begin their programme with IUKL.
Facilities
IUKL's wide range of academic and professional courses are conducted in contemporary studios, laboratories and workshops, equipped with the latest technology and equipment to enhance your learning experience, whether you are studying Engineering, Computing, Architecture, Business, Language or Science.
Student Community
IUKL student community is a combination of local and international students from 60 countries. This factor will expose students to ethnic diversity which indirectly increase self-confidence and communication skills.
Experienced And Qualified Faculty Members
Students at IUKL are tutored by highly qualified lecturers, some of whom are industry practitioners. IUKL prides itself in providing students with practical hands-on experience that inculcates confidence and enables you to be ready for the workplace upon graduating.