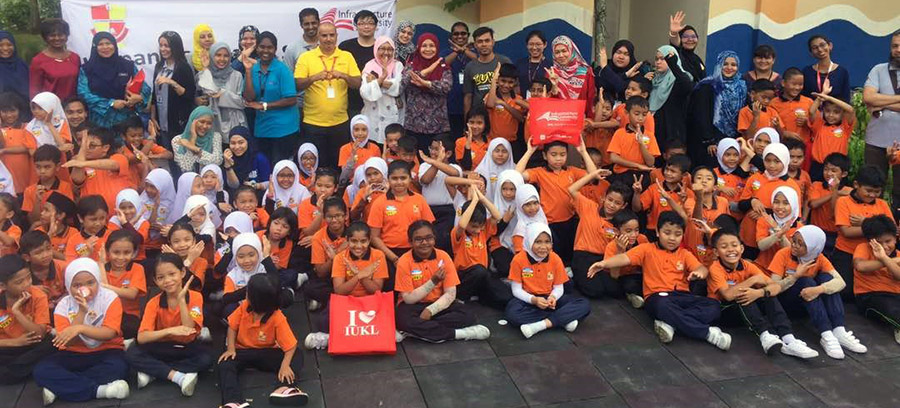 The Faculty of Arts, Communication and Education (FACE) organised the 'Explore Race cum CSR Activity' with Sekolah Kebangsaan Taman Desaminium, Seri Kembangan Selangor on 6 September 2017. The delegation from IUKL was led by Prof. Dr. Siti Maziha Mustapha, Head, Department of Education; by Prof. Dr. Faridah Ibrahim, Dean, FACE; Assoc. Prof. Dr. Christiantine Della, Deputy Vice Chancellor; Ms. Suraya Amirrudin, Head of Programme and Mr. Harold Poong Wan Hing, Senior Lecturer together and 31 IUKL students, currently doing Bachelor of Arts (Hons) and Masters of Arts in the Teaching of English to Speakers of Other Languages (TESOL). The delegation was warmly welcomed by Yang Berbahagia Datin Roslina Binti Othman, Penolong Kanan Petang of SK Taman Desaminium; Puan Zuraini binti Zulkifli, Head of English and Ms. Nurul Huda bt Abdul Halim.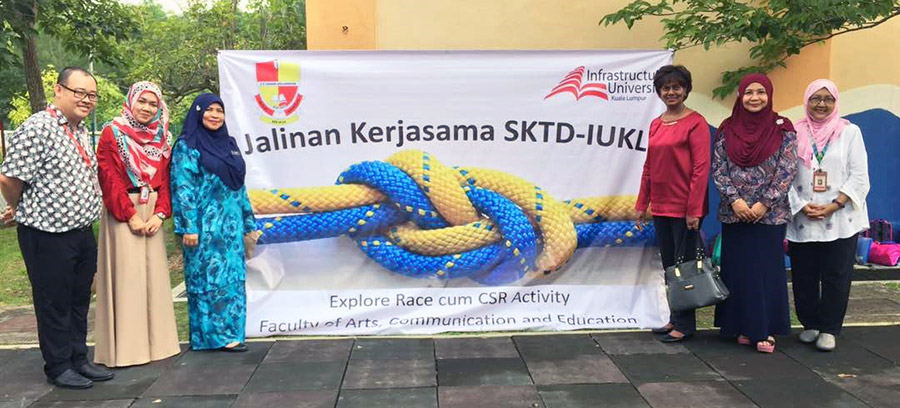 The Explore Race which was managed by the BA TESOL students received very positive feedback from the students of SK Taman Desaminium. A total of 98 students from Primary 1, 2 and 3 took part in the race. The Explore Race was aimed at introducing a variety of English language activities to encourage the students to speak in English. Among the language activities conducted were tongue twister, word run, charade and sentence building. At the end of the race, 8 teams were selected as the winners. Every member of the winning teams received a special edition coin box from IUKL. The other participants each received a special IUKL badge as a consolation prize.
Concurrently, a CSR Activity was also carried out. This activity was managed by the MA TESOL students. The CSR activity was aimed at creating awareness and providing an opportunity for these future teachers to engage in community-caring events such as helping the underprivileged students. A total of 20 underprivileged students from SK Taman Desaminium were identified and they each received a bag full of useful items donated by the students, staff, lecturers and parents. The items include stationary, socks, inner wear for boys, shoes, color pencils, lunch box, T-shirt, paper bag and a pencil case. On top of that, each student also received RM100 in which cash was given to SK Taman Desaminium Asnaf Fund. A coloring contest was also held and the 3 winners received a special edition coin box from IUKL.
This 'Explore Race cum CSR Activity' would not have been possible without the hardwork, cooperation and dedication from the students, lecturers and sponsors. On behalf of the underprivileged students of SK Taman Desaminium, we are grateful to the students, lecturers and staff members of IUKL for the monetary donation. A special note of appreciation also goes to those who donated in kind; Puan Fadzilah Binti Samion, UMW Sdn Bhd, Generic Resources Sdn Bhd, and IUKL.