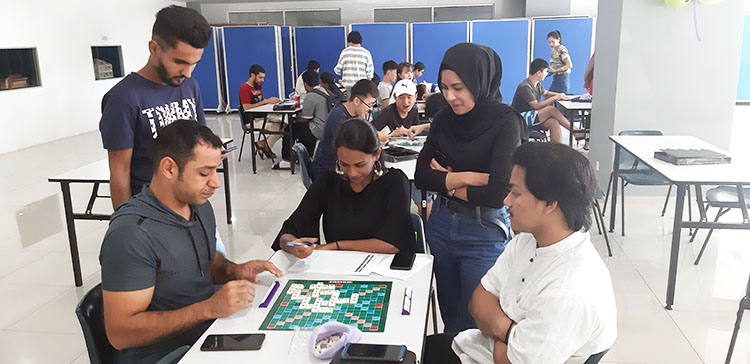 On 21 January 2020, the Human Sciences Department of the Faculty of Business, Information and Human Sciences (FBIHS) organised the IUKL Scrabble Workshop 2020 from 2.00 to 5.00pm at Room 207 (Block 11). This workshop was held to give opportunity to all IUKL students, especially the beginners to learn scrabble skills before joining the IUKL Scrabble Competition 2020. During The workshop the beginners were introduced to the rules and skills of this game. Before the end of this workshop, the participants had the opportunity to practise playing this game with the skilled students who also attended the workshop to enhance their Scrabble skills.
The IUKL Scrabble Championship 2020 which was a one-day-event began at 8.30am with a welcoming speech by the Head of Human Sciences Department, Ms Suraya Binti Amirrudin. This competition which was open to all IUKL students saw the participation of players from different programmes in five slots which started at 9.00am and ended at 2.55pm. It was interesting to see that the students were very competitive in all slots. However, there was intense competition among the 10 top scorers who were qualified to compete in the final slot (sixth) which began at 3.00pm. All the first five slots including the final slot were judged by two judges, Dr. Nor Hazila, the Dean of FBIHS and Ms Suraya, the Head of Human Sciences Department based on the highest total points scored by the players for each slot of this competition.
The winners of the IUKL Scrabble Competition were:
All the winners were awarded exciting prizes such as trophies by the Dean of FBIHS, Dr. Nor Hazila. At 4.30pm, this event ended with a thank you speech by the Dean followed by a photo session with the winners, participants and lecturers from the department. The objectives of this championship were all achieved, with all players look forward to participating in the championship next year.