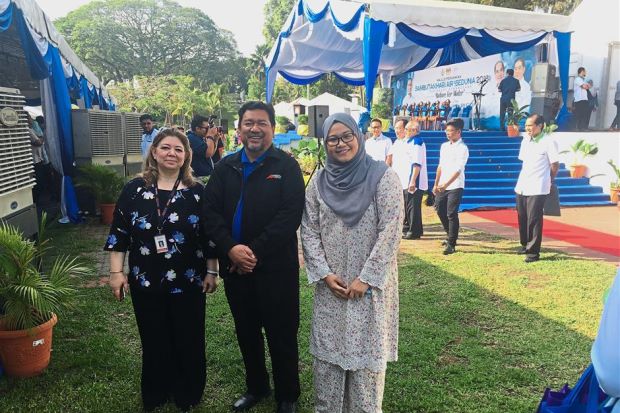 DR Azlinda Saadon and Dr Khalid Mohammed Breesem, who are both from the Infrastructure University Kuala Lumpur (IUKL), have won gold and silver medals respectively at the National Level Best Thesis of Higher Learning Institutions in the Doctor of Philosophy category.
Dr Azlinda who is a Faculty of Engineering and Technology Infrastructure lecturer and coordinator (Training and Publication Unit) for the I-GEO Disaster Research Centre at IUKL, won the medal through her thesis, entitled, "Stream bank Erosion Prediction using Empirical Model for Natural River Channels".
She walked away with a certificate and cash prize of RM1,150, which was presented by Perak Mentri Besar Datuk Seri Dr Zambry Abd Kadir at the World Water Day celebration at Laman Budaya in Kuala Kangsar recently.
Her thesis was supervised by a professor from Universiti Teknologi Mara (UiTM) and an expert in hydraulics and river engineering, Prof Dr Junaidah Ariffin, and co-supervised by an expert in hydrology, Dr Jazuri Abdullah.
She previously took part in the Infrastructure University Innovation & Invention Competition in December last year.
She won a silver medal for "Stream bank erosion prediction using ANNARX model and statistical approach", where she developed a neural network-based model and statistical approach in the prediction of stream bank erosion rates for natural river channels.
Dr Khalid who is from Iraq, completed his PhD in Civil Engineering at IUKL in November 2017. He won a silver medal through his thesis, entitled, "Behaviour of Self-Compacting Concrete Incorporating Alum Sludge with Other Pozzolans as Unary and Binary Blended Cementitious Systems".
The thesis was supervised by Assoc Prof Dr Manal Mohsen Abood, a lecturer as well as director of the Centre of Postgraduate Study at IUKL. Dr Manal is an expert in water resources, erosion and sedimentation and hydrology studies.
Dr Khalid received a certificate and a cash prize of RM800 which was presented by Dr Zambry. His study explores the potential of water treatment wastes, known as Treated Alum Sludge at different percentages to produce Self-Compacting Concrete.
"I always tell my students that my philosophy in life is 'a journey of thousands of miles begins with a single step'.
"I am pleased and thankful that my student received this award as it will have a significant impact on his future career.
"It also speaks volumes about a university and provides a third-party endorsement of our achievements," said Dr Manal.
Source: The Star Online