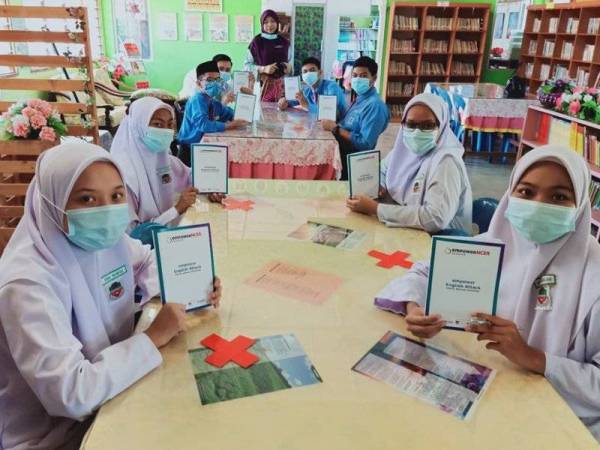 Sebahagian pelajar dan guru mengikuti modul pembelajaran empowerNCER Akademik.
ALOR SETAR – Kekangan sesi pembelajaran secara bersemuka akibat Covid-19 tidak menjejaskan usaha Pihak Berkuasa Pelaksanaan Koridor Utara (NCIA) dalam memastikan pelajar Tingkatan Lima golongan B40 dan lemah akademik mendapat manfaat melalui Program empowerNCER Akademik.
Ketua Eksekutif NCIA, Datuk Seri Jebasingam Issace John berkata, program empowerNCER Akademik bawah pembangunan modal insan dilaksanakan bagi membantu pelajar yang menduduki peperiksaan Sijil Pelajaran Malaysia (SPM) 2020 bermula Isnin ini.
Menurutnya, NCIA akan terus membantu pelajar melalui program-program modal insan yang holistik selain menyokong ekosistem pembasmian kemiskinan melalui penyampaian pendidikan inklusif dan inovatif dalam melahirkan modal insan yang akan membantu pelajar, keluarga dan negara.
"Sehingga 31 Disember 2020, seramai 1,950 pelajar Tingkatan Lima dari 51 sekolah terpilih menyertai program ini dengan kerjasama Jabatan Pendidikan Negeri Perlis, Kedah, Pulau Pinang dan Perak," katanya.
Jebasingam berkata, program kolaboratif strategik bersama beberapa universiti awam itu turut mendapat tajaan Yayasan Petronas melibatkan 750 pelajar.
"Rakan strategik lain termasuk Universiti Teknologi Mara dan Institute of Continuing Education & Professional Studies diberi mandat melaksanakan program ini di Perlis dan Kedah. Universiti Sains Malaysia dan Usains Holding Sdn Bhd di Pulau Pinang serta Universiti Pendidikan Sultan Idris, UPSI Holdings Sdn Bhd, Infrastructure University Kuala Lumpur dan IKRAM Skills Academy Sdn Bhd di Perak," katanya.
Menurutnya, program itu juga turut membimbing pelajar selepas tamat peperiksaan SPM menerusi sesi kaunseling dan bimbingan kerjaya berdasarkan keputusan SPM bagi memastikan hala tuju bersesuaian dengan keputusan diperoleh.
Timbalan Pengarah Pejabat Pendidikan Daerah (PPD) Sektor Pembelajaran, Seberang Perai Utara, Pulau Pinang, Zainuddin Abdul berkata, sekolah yang menyertai program berkenaan menunjukkan peningkatan akademik, motivasi diri dan keseronokan belajar walaupun dilaksanakan secara atas talian.
"Coaches dan modul digunakan amat membantu pelajar. Penglibatan ibu bapa juga memberi impak positif, selain penekanan terhadap semua subjek teras SPM, seperti Bahasa Melayu, Bahasa Inggeris, Matematik, Sejarah dan Sains," katanya.
Menurutnya, program itu turut menekankan aspek pembangunan sahsiah pelajar selain ibu bapa diberikan pendedahan membantu anak-anak mereka mencapai kejayaan seterusnya meningkatkan taraf sosioekonomi keluarga.
"Guru-guru pula diberi bimbingan dan tunjuk ajar teknik-teknik pendidikan moden yang lebih efektif," katanya.
Timbalan Pengarah Pendidikan (Pengurusan Sekolah), Jabatan Pendidikan Negeri Perlis, Rusli Md Zain turut mengakui pendidikan merupakan instrumen terbaik mengubah masa hadapan individu atau sesebuah keluarga daripada terus dibelenggu kemiskinan.
"Program empowerNCER Akademik antara usaha diperlukan pelajar dan memberi impak besar kepada kumpulan sasaran B40," katanya.
Guru Penyelaras, Shahnuroh Shaari dari Sekolah Menengah Kebangsaan (SMK) Ayer Puteh Dalam, Pendang berkata, program terbabit memberi impak positif kepada pelajar memperoleh keputusan cemerlang pada peperiksaan percubaan SPM.
"Keputusan peperiksaan percubaan SPM baru-baru ini sangat positif, pencapaian GPS (Gred Purata Sekolah) meningkat kepada 5.7 berbanding sasaran 6.5. Ini merupakan keputusan membanggakan, diharap keputusan pelajar akan lebih cemerlang dalam peperiksaan sebenar," katanya.
Dalam pada itu, Guru Penyelaras SMK Chepir, Sik, Khairoswati Zainal Abidin berkata, program empowerNCER Akademik dilaksanakan melalui kaedah pembelajaran teradun secara dalam talian dan bersemuka serta berkesan dalam peningkatan prestasi akademik pelajar.
"Pelajar tidak lagi bosan semasa kelas subjek Sejarah. Gabungan kaedah pembelajaran merangkumi penggunaan modul, pemberian tablet dan platform pembelajaran digital dilengkapi alatan tambahan iaitu peranti elektronik On The Go (OTG) membekalkan video interaktif dan info grafik membantu keberkesanan pembelajaran dan pengajaran," katanya.
Sementara itu, peserta program dari SMK Bakti, Tasek Gelugor, Chua So Joe mengakui tablet sangat berguna dalam proses pembelajaran dan memudahkan dirinya membuat kerja sekolah dan modul latihan.
"Pelajar boleh akses modul sama ada di sekolah atau di rumah selain mendapat bimbingan guru secara dalam talian mahupun bersemuka," katanya.
Bagi Manpreet Kaur Dhiloon A/P Jaggit Singh dari SMK Sri Tapah, Perak berkata, program yang disertainya itu membantunya memantapkan pencapaian akademik termasuk bukan akademik.
Waris pelajar SMK Datuk Haji Abdul Kadir, Yap Lee Lee, gembira dengan perkembangan positif anaknya selepas menyertai program berkenaan.
"Anak saya sebelum ini asyik bermain permainan video di teleon bimbit, tidak fokus belajar sekarang dia berubah dan menunjukkan minat dan prestasi yang baik," katanya.
Source: Sinar Harian