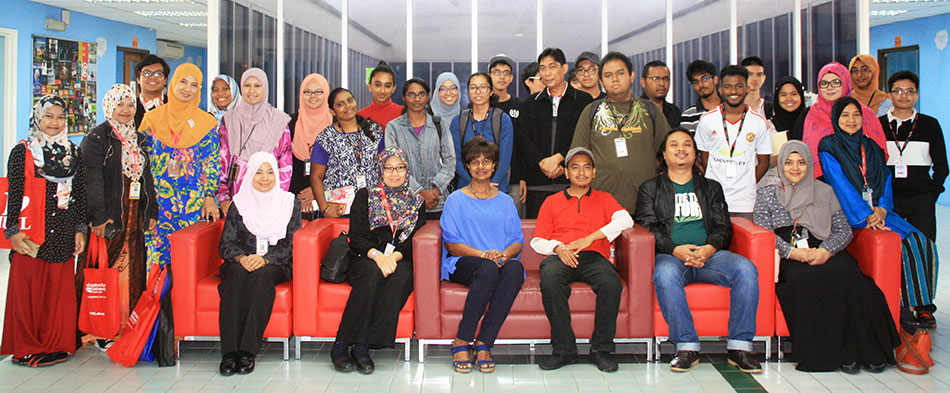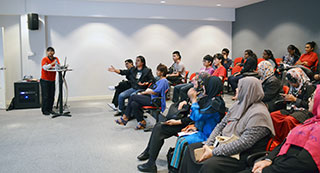 The Faculty of Creative Media and Innovative Technology invited Mr. Amir Hamzah Hashim, the President of the Animation Society of Malaysia (ANIMAS) as the guest speaker on April 7, 2017 to impart his experience, knowledge and profound passion on all aspects of Animation Design and Development. Mr. Faizal Mukhtar and Mr. Kamarulzaman Abdul Malek from ANIMAS were also present.
He started off the session by introducing ANIMAS, followed by the history and the development of animation in Malaysia.
Mr. Amir also explained the difference between animation and cartoons, together with a flashback to animations and cartoons produced and popularly aired on TV during the 1980s and 1990s such as Keluang Man, Usop Sontorian, Anak-Anak Sidek, Hikayat Sang Kancil, Di Mana Joe Jambul and Boboi Boy.
Since the start of his career in 1994, Mr. Amir has worked with many renowned people including Hassan Abdul Muthalib and Imuda, for the animation "Mat Gelap", and Ustaz Don Daniyal on WWF (When We're Friends with Nature), the first faith-based animation series in Malaysia.
The Mini Theatre was packed with IUKL students and staff from across the faculties as well as participants from the Management and Science University, Jabatan Perdana Menteri and IUKL's partner, Astin College.
The Deputy Vice Chancellor (Academic and Internationalisation), Assoc. Prof. Dr. Christiantine Della also attended the event to show her support.
The session ended with a 'Q and A' session followed by a presentation of a token of appreciation to the speaker and a group photo.
"Wayang Kulit (Shadow Play)" is recognised as the first animation in the world.

Did you know?