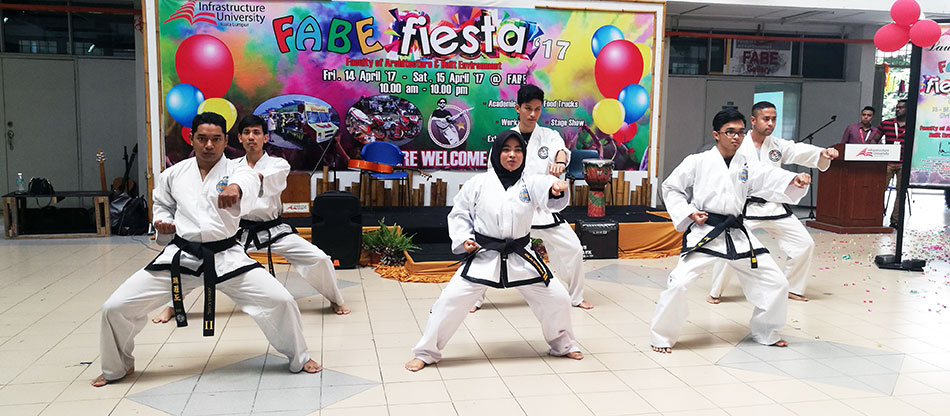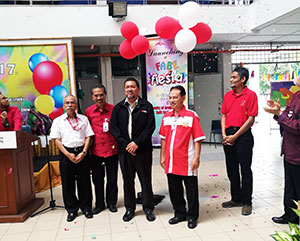 On 14th and 15th April 2017, the faculty successfully organized the FABE Fiesta. This event was held to inform students and visitors of the programmes offered in the faculty and campus. There were a lot of activities for students such as programme consultation, education/professional talk, workshops and games, while visitors can enjoyed themselves at the mini bazaar, food truck, stage show and exhibition.
The fiesta was launched by the President and Vice Chancellor of IUKL, Prof. Dr. Roslan Zainal Abidin on the 14th April 2017. The ceremony started at 2.30pm with the ceremonial eco-drum beats by ARCA Club to welcome the VIPs. After the speech by the Dean of FABE, our President officiated the fiesta by signing the fiesta banner. It was followed by the performance by the students in the form of musical performance, flash mob dance and taekwondo. The President and the VIPs were taken to visit the mini bazaar, exhibition and food trucks.
Three secondary schools and one primary school were invited to participate in this event, namely SMK Putrajaya Presint 8, SMK Jalan Reko, SMK Putrajaya Presint 16 and Sek. Keb. Bandar Teknologi Kajang. The number of students that came on both days was 160, and they were enthusiastic about joining in the games organized by the faculty.
Speakers from the industry were invited to talk to the students. The first talk delivered by Dr. Ruzaimi Mat Rani from Clubee Sdn. Bhd. Was titled "Why Freehand Visualize Not Draw". The second talk titled "Design Concept and Inspirations" by Muhammad Taufiq Nazarudin from Design Framework and Lillian Tay from Veritas Architects Sdn. Bhd., who were also representatives from PAM (Persatuan Arkitek Malaysia). A 3D Animation Workshop was conducted by Adil Farizal Md Rashid to familiarize students to 3D software available in the market.
At night, there were stage shows by the students which. On the second day, Vespa owners from Melaka, Negeri Sembilan and Klang Valley came for the Vespa Show Off. They joined in the competition and were given certificates and trophy for their participation.
The fiesta went smoothly as planned with the support and cooperation from all the parties involved.