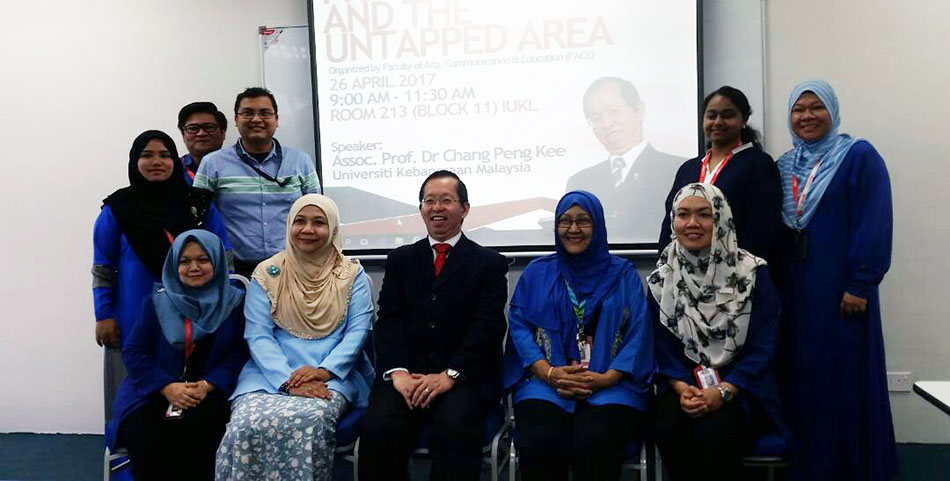 26th April, 2017 – IUKL had the opportunity of sharing the expertise of Assoc. Prof. Dr. Chang Peng Kee from Universiti Kebangsaan Malaysia (UKM) in the field of framing analysis. Dr. Chang's public lecture titled Framing Study and the Untapped Area, organised by the Faculty of Communication, Arts & Education (FACE), was held at Block 11, IUKL. Targeted at communication practitioners, lecturers and students, the lecture was organised to serve the needs and interests of those interested in issues related to framing as well as priming which represent the current research trends in the fields of communication, mass media and language.
A renowned expert in the field of public relations and media framing, Dr. Chang's lecture at IUKL explored the theoretical approach of framing analysis in exploring how people decipher the world around them and represent it in the media; all within the boundaries of agenda setting, which refers to the powerful influence the media exerts in determining what issues are important and how we should perceive them. According to Dr. Chang, however, there is a whole new dimension of potential powerful media effects through framing that goes beyond agenda setting.
Dr. Chang's lecture was a boon to the communications specialists and students of IUKL, whose research and study pivot on the role of media as a key communicative tool in disseminating information to the world. Armed with extensive experience in the field of communications, Dr. Chang was able to aptly customise his lecture to meet the needs of all levels of audience who were present that day. Promising to return with more trailblazing knowledge in the future, Dr. Chang ended the lecture on a high note by assuring the audience of the power media has in general, to serve the greater good of humanity and the world; a fact which delighted the many communication loyalists who were present.