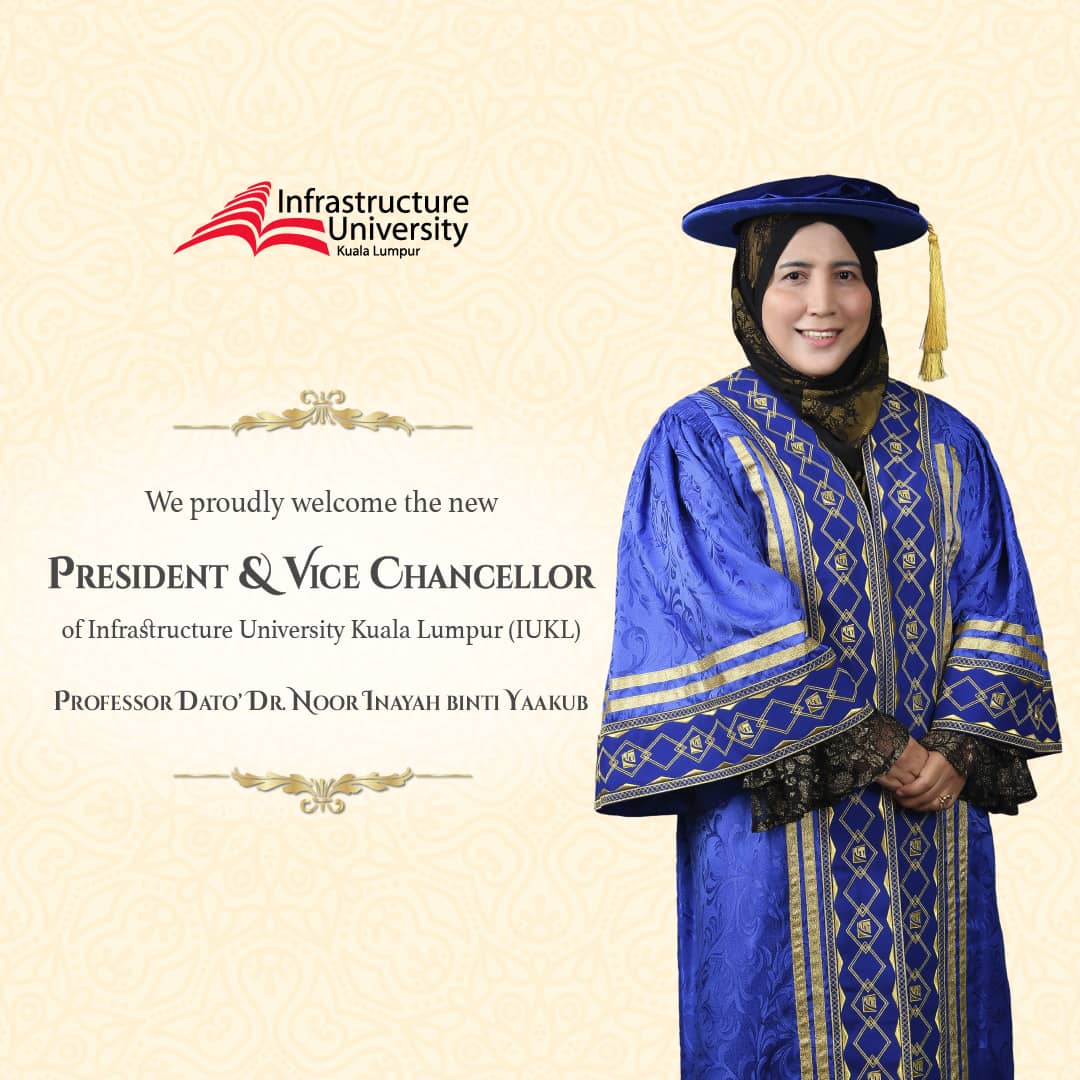 The Infrastructure University Kuala Lumpur (IUKL) is proud to announce the appointment of Professor Dato' Dr Noor Inayah binti Ya'akub as the new President and Vice-Chancellor, effective 1st July 2021.
As a practicing lawyer, academician and advisor to numerous boards, Professor Dato' Dr Noor Inayah brings with her extensive experience and knowledge in the higher education industry. She was the Chief Executive Officer (CEO) & Rector for a private college of Baitulmal Professional College of Islamic Council. In her capacity as the CEO and Rector of the College, among many others, she was responsible for a major transformation of the College in Kuala Lumpur which culminated the quality education of low income (B40) students in the professional Accounting and other accredited professional courses. Her legacy also includes substantial improvements in the (B40) students, the quality of teaching, and the scale and impact of its industrial linkages, placing the College among the top colleges in professional accounting and other accredited professional courses for (B40) candidates.
She has acquired numerous awards and recognitions throughout her career. On the international front, Professor Dato' Dr Noor Inayah was awarded as The Best Business Law Professor by The Golden Globe Tigers Award Malaysia 2019. In the same year, she was awarded the prestigious Tokoh Maal Hijrah Wilayah Persekutuan for a distinguished scholar category. Following that, she was ranked 22nd of top 300 the most influential women in the world for Islamic Finance which is assessed by the UK Cambridge Financial Association 2020.
Professionally, Professor Dato' Dr Noor Inayah is currently the Board member of International Islamic College of Technology Penang, a state Religious Council-owned higher learning institution and also a member of Shura Committee of the same State Council. In addition, the Selangor Islamic Religious Council has also appointed her as a committee member for Baitulmal & Development. She has successfully navigated the pressures and expectations of the top position in her career. In her previous positions, Professor Dato' Dr Noor Inayah was active in representing Malaysia nationally and internationally on Endowment and Waqf in the higher learning sustainability ecosystem. Her leadership and knowledge benefited numerous country level boards and main steering committees.
Academic wise, Professor Dato' Dr Noor Inayah obtained her Bachelor in Law from International Islamic University in 1993 and later obtained a second degree in Shariah law in 1994. She received her Masters in Commercial Laws from theUniversity of Bristol, England, one of the top 5 Faculty of Law in the world, in 1997. She further obtained her PhD in Law from the Law Faculty, the University of Manchester, England in 2005 which she successfully completed in less than 3 years.
Professor Dato' Dr Noor Inayah also possesses numerous professional qualifications. She received 5th QS-Apple-Asia Pacific Professional Leaders in Education expert certificate in 2009. In the same year, she obtained Advance Certificate (Technology Transfer & Project Management) from University of Oxford in 2009. Later, in 2012, she received the United Nation Professional Certificate for Selected Higher Learning corporate planning leaders for University research and teaching components. Recently in 2019, she received the Advanced Certificate for Leaders in Education: Innovation and Strategy for the future of Higher Education, School of Executive Education, Cambridge Judge Business School, University of Cambridge.
IUKL welcomes Professor Dato' Dr Noor Inayah and looks forward to continued success and sustainable growth of the university under her leadership.