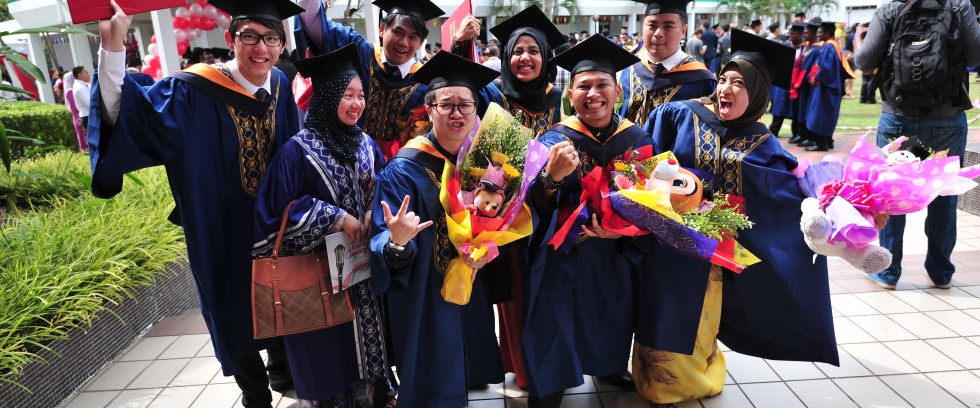 The 12th IUKL CONVOCATION CEREMONY 2014
"Enhancing Quality, Embracing Transformation"
Kajang, 6th September 2014: About 800 graduates received their Masters, Bachelor Degrees, and Diploma scrolls from YBhg. Tan Sri Dato 'Ir. (Dr.) Wan Abdul Rahman Bin Wan Yaacob, the Chancellor of Infrastructure University Kuala Lumpur (IUKL) and YBhg. Academician Dato' Ir. (Dr.) Lee Yee Cheong, the Pro-Chancellor of IUKL at the 12th IUKL convocation ceremony, here today.
Held at the university's main hall, the event was also witnessed by Professor Dr. Zulkifli Abdul Hamid, the Executive Director of the Education Division, IUKL; Professor Dr. Roslan Zainal Abidin, the President and Vice-Chancellor of IUKL; the IUKL management team , parents, representatives from the embassies and distinguished guests.
The graduation ceremony was held in three sessions. The first session started with the procession of students and academic staff followed by the grand procession led by YBhg. Tan Sri Dato' Ir.(Dr.) Wan Abdul Rahman Haji Wan Yaacob into the hall. He conferred the Master and Engineering Bachelor degrees to the postgraduate and undergraduate students and presented the Chancellor's Award and the Vice-Chancellor's Award to the top students in this session. He also conferred the Bachelor degrees for other programmes in the second session. The third session in the afternoon was precided by the Pro-Chancellor.
The Chancellor's Award recipient was Choong Choe Earn (Bachelor of Civil Engineering (Hons), and the Vice-Chancellor's Award Recipients were Lim Teck Huat (Bachelor of Civil Engineering (Hons)), Nithiaya Pandi Dorai (Bachelor of Communication (Hons) in Integrated Marketing Communication), Anis iliya Razlan (Diploma in Business Administration), and Saddamia Raudah Harlon (Diploma in Quantity Surveying).
Choong Choe Earn, the Chancellor's award recipient, undoubtedly deserves to be the Valedictorian of the year. Apart from scoring excellent grades in her 4 years pursuing the Bachelor of Civil Engineering, Earn was also active in many extra-curricular activities.She has brought the university to greater heights by winning Gold Medals with her team at the 23rd International Invention, Innovation & Technology Exhibition (ITEX 2012) held at the Kuala Lumpur Convention Centre and the International Trade Fair (iENA 2012) in Nuremburg, Germany.
Lim Teck Huat, a Vice-Chancellor's award recipient, has successfully completed the Bachelor of Civil Engineering (Hons) with a CGPA of 3.937. He completed his Diploma in Civil Engineering at the Kuala Lumpur Infrastructure University College (KLIUC) in June 2011 before pursuing his Bachelor of Civil Engineering (Hons) in November 2011. During his studies at IUKL, Lim has received numerous the President's and Dean's List awards.
As for Nithiaya Pandi Dorai, she pursued a Bachelor of Communication (Hons) in Integrated Marketing Communication. She completed her first degree with a CGPA of 3.922. During the three years of her studies at IUKL, Nithiaya has been actively involved in many programmes organised by the university. She was one of the student ambassadors for the Vietnam Project and has participated in several awareness campaigns.
The other Vice-Chancellor's Award recipients, Anis Iliya Razlan and Saddamia Raudah Harlon completed their Diploma in Business Administration and Diploma in Quantity Surveying respectively. Anis completed her studies with a CGPA of 3.963 and Saddamia with a CGPA of 3.820. They both enjoy receiving the 60% tuition fee waiver awarded by IUKL to outstanding students. These award recipients shared that this is what  motivated them to excel in their studies.
This year IUKL has introduced the Industrial Awards. The Industrial Awards are given by our industry partners to reward students who have demonstrated outstanding academic achievement as well as active co-curricular involvement. The six recipients of these awards are four students from the Bachelor of Civil Engineering (Hons) programme; Chong Chin Chung, Mohammed Ali Mohammed Albared, Sanjay Boss, and Tham Feh Fan, and the other two are Siti Fatimah Mohd Nor from the Bachelor of Business Administration (Hons)  programme and Puteri Nadhirah Megat Ahmad Kamil from the Diploma in Biotechnology programme. These students received awards from prestigious companies such as APP Engineering Sdn Bhd, Ardhmillenia Sdn Bhd, Gagasan Teguh Sdn Bhd, Takaful Ikhlas Berhad, Wah Seong Corporation Berhad and Wiranda (M) Sdn Bhd.
To date, IUKL has produced more than 6000 graduates who are now serving both the government and private sectors in Malaysia as well as abroad. Currently, IUKL has more than 4000 students specializing in various fields of study such as Engineering, Accountancy, Business Administration, Information Technology, Corporate Communication, English for Professional Communication, Biotechnology and others.
For more information, contact IUKL at 1-800-88-STUDY (78839), or e-mail to [email protected] or visit www.iukl.edu.my. Follow IUKL on facebook.com/myIUKL and twitter.com/myIUKL for latest updates.