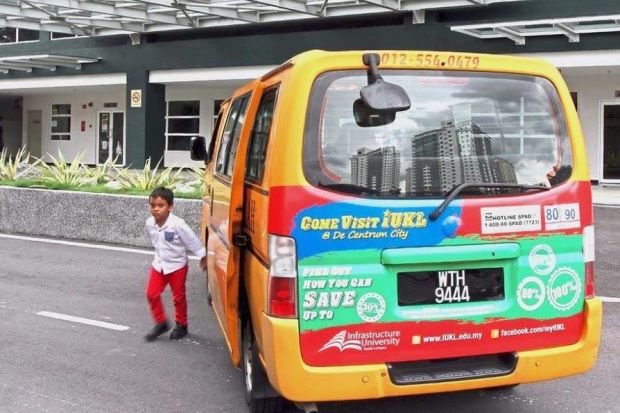 A schoolboy alighting from a school bus featuring an advertisement for IUKL, which was established in 1998.
THE school holidays are in full swing, but forward-thinking parents have begun their search for the right mix of quality, recognition and affordability as they weigh the options for their children's higher education.
One institution that is sure to have made an impression is Infrastructure University Kuala Lumpur (IUKL), which offers bond-free scholarships.
IUKL scholarships are made available to students who have excelled at the elementary levels, including SPM, STPM, O-Level, A-Level, UEC, foundation studies and diploma.
To provide deserving students with opportunities to pursue their higher education, IUKL also collaborates with the Star Education Fund and the Sin Chew Education Fund, where the bond-free scholarships cover multiple disciplines at the diploma and degree levels.
Students who have represented the state or the country in any sports competition three years prior to joining the institution can benefit from the IUKL Sports Excellence Scholarship, which rewards outstanding achievement at those levels.
To encourage academic excellence and reduce the financial burden on students and parents, the IUKL Tuition Fee Waiver Scheme is also offered every semester. It offers up to 50% off the semester tuition fee for students who maintain a CGPA of 3.75 and above every semester.
Most IUKL programmes have attained either partial or full accreditation from the Malaysian Qualifications Agency (MQA), which makes students eligible for study loans from the National Higher Education Fund Corporation (PTPTN) and financial assistance from state foundations.
IUKL advertisements, which were displayed on selected school buses in the Klang Valley under Star Media Group Bhd's School Buzz outdoor advertising platform, invited interested parties to find out how they can save on quality education.
Being an education provider for more than 18 years, the various fields of study at IUKL include Engineering, Architecture, Construction Management, Quantity Surveying, Business, Accounting, Information Technology, Corporate Communications, English Language Studies and Biotechnology.
The School Buzz advertisements also welcomed the public to visit IUKL at De Centrum City, which is being transformed into a 40ha education township.
The environmentally-conscious also have reason to rejoice, as the existing university campus will be upgraded with added green features.
Future developments also include recreational facilities, a mini stadium, hotels, apartments and a convention centre.
For details on IUKL, call 03-8738 3260. For details on School Buzz, call 03-7966 8230, e-mail [email protected], or go to www.thestar.com.my/schoolbuzz/
Source: The Star Online
Read more at 365 News