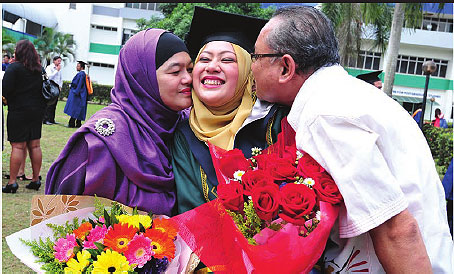 5 MARCH 2017 – PARENTS want to provide the best for their children. Therefore, choosing the proper educational institution is key. Institutions with quality that are recognised will lead to your child's success. With a Tier 5: Excellent rating in the latest Malaysian Qualifications Agency (MQA) Rating System Setara'13, IUKL is the first full-fledged infrastructure university in Malaysia that emphasises the integration of hard and soft aspects of infrastructure to produce well-rounded technopreneurs with outstanding communication, technological and managerial skills.
Accreditation and professional recognition
Before sending your children off to a university, it is essential to explore the accreditation and professional recognitions of the institution.IUKL's programmes are well recognised and accredited by professional local and international bodies such as the Board of Architects Malaysia (LAM), Land Surveyors Board (LJT), Royal Institution of Surveyors Malaysia (RISM), Cisco, International Organisation for Standardization (ISO) and the Association of Chartered Certified Accountants (ACCA), among others.The programmes are approved by the Higher Education Ministry and MQA.All the university's engineering degrees are recognised by the Board of Engineers Malaysia and the Washington Accord, an international agreement among bodies responsible for accrediting engineering degrees.Students are given the opportunity to further their studies abroad because of IUKL's strong connections with international education institutions,.This happens through the cooperation between IUKL and several international universities in the United Kingdom, the United States, Australia, New Zealand, Ireland, China, the Netherlands and Germany.
Scholarships and tuition fee waiver
We all tend to worry when it comes to fees as it can be quite costly but fret not, as IUKL believes that quality education should be made available for everyone. Therefore, there are scholarships and tuition fee waivers available to lift the burden off your shoulders.Students who score a minimum of 5As (including A-) in SPM/ O-Level are able to attain IUKL scholarships. Those who are active in sports can also apply for the Sport Excellence Scholarship.IUKL also collaborates with major media education funds, such as the Star Education Fund and Sin Chew Education Fund, to provide deserving students a chance to pursue their higher education. Tuition fee waivers of up to 50% are available to encourage students to shine academically by maintaining a minimum CGPA of 3.75. No application is required for this fee waiver scheme as it will be automatically offered to high achievers.PTPTN and financial assistance from the State Foundation are also available.
On-campus accommodation
Your child needs a comfortable, productive space to live in so they can be mentally and emotionally fit to ace courses. Ensure a smooth and pleasant journey through university by settling in the accommodation provided by IUKL before classes start. IUKL is set within the 100-acre (40.47ha) De Centrum City in Kajang, Selangor, which is poised to grow into a modern education township, well equipped with numerous amenities for its students' needs from cosy condominiums and hostels to commercial areas within a secure green environment.The neighbourhood shopping centre, De Centrum Mall, is situated within campus grounds where students can get their daily necessities. The mall consists of a supermarket, laundry mat, courier service and food outlets.
Read more of this news at SETARA TIER 5 , Page 12.