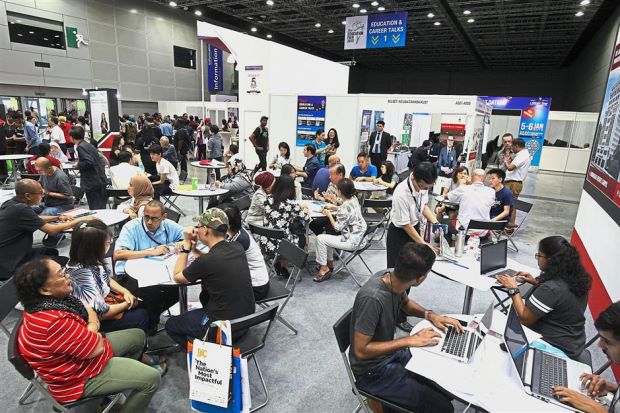 Although studies come first for the Infrastructure University Kuala Lumpur diploma in software engineering student, he just couldn't turn down the offer to volunteer.
"Starting a conversation with people isn't a problem for me because I have travelled overseas alone but volunteering here has certainly taught me to be more confident.
"At a fair like this, you see how different people are. It teaches you to adapt to your situation and helps you improve your communication skills," said Jhotiswaran, who is also a professionally trained badminton player.
"Because I have been through that phase of uncertainty, I like to guide them.
"The hardest part though is starting a conversation because you never know what the other person is expecting," said the Methodist College Kuala Lumpur student, who is sitting for his ACCA papers.
KDU University College Computing and Creative Media School head Tan Chin Ike highlighted the severe shortage of game development talents in Malaysia during his talk "Study Game Development: Being A Part of a Multi-Billion Dollar Industry" at the fair.
Besides elaborating on the components of game development – which includes art, design and technology – Tan Chin Ike said Malaysia was home to over 50 large game companies while South-East Asia had over a hundred.
As of 2017, he said Asia had the second largest market share – 22% – worldwide in the distribution of game developers after North America, which had 49%.
"Malaysia has been doing games since the 1990s and many Malaysians do not know about it.
"We have been handling gaming content from the US, Europe and Japan, and more large gaming corporations are coming to Malaysia and South-East Asia to look for talents and set up shop," he added.
Malaysian game developers, he said, had played large roles in the production of popular games such as Final Fantasy, Fifa, Street Fighter, Call of Duty, Unchartered and many more.
"It is definitely an industry that allows us to cari makan (have a livelihood), so parents should not be too concerned or apprehensive if their child is interested to join the sector," he added.
Savant Garde Learning Solutions chief executive officer and principal trainer Thomas Yap, who is a guest speaker for Asia Metropolitan Uni­versity, spoke about "The 6Ps in Charting a Suitable Career Path After SPM".
He said "passion, potential, personality, priorities, prospects and parents" made up the 6Ps that would help school-leavers gain a clearer sense of what to do.
"The first thing you must do is to find your passion – what you enjoy the most because passion leads to purpose, and purpose leads to your profession.
"Then, determine your strengths, traits and what you value the most (priorities) and prospects," he said.
Yap also advised parents not to live their dreams through their offspring and to adopt an open mind.
Cautioning school leavers against following their friends' footsteps, he said that they might regret the decision later after much time and resources had been spent.
For details on the fair, call 03-7967 1388 (ext 1541), email [email protected] or visit thestar.com.my/edufair and facebook.com/stareducationfair.
The fair is held at Halls 1 to 5 at the Kuala Lumpur Convention Centre from 11am to 7pm. Admission is free.
Today is the last day of the fair.
Source: The Star Online