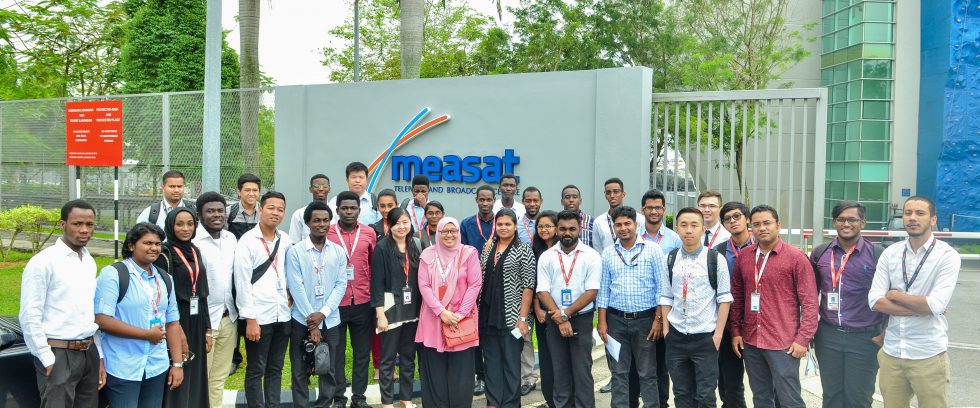 Recently, students from BTN204 – Distributed and Parallel Computing, FCMIT with the support of Bangladesh Students Association (BSA) had the opportunity to visit Measat, Cyberjaya and the Faculty of Computer Science and Information Technology (FCSIT), UPM.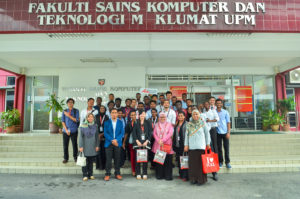 The objective of the visit was to expose students from the Bachelor of Information Technology (Hons) in Network Technology Programme to the implementation of distributed and parallel concepts in the relevant industry as well as in academic institutions. Thirty seven students and 3 lecturers went on this field trip.
The first visit was to Measat, Cyberjaya where we were warmly welcomed by their cheerful representative, Ms. Ili. She took us to their well-equipped lecture room where we had the opportunity to listen to a very informative lecture by their senior manager. It was truly an eye opener as he explained to us how satellites are controlled in outer space and what happens to satellites if they malfunction. Later, we were taken to the control rooms where the satellites are controlled real time. The broadcasting room consists of all the channels broadcasted by Astro. Finally they took us to the satellite farm where they host 16 satellites which control the broadcasting and transmission for Malaysia.
At University Putra Malaysia (UPM), we were received by Dr. Abdullah Muhammad, the Head of the Department of Communication Technology and Networking. We were taken around to their labs. They have a well-equipped lab for teaching CUDA, a distributed concept learning tool.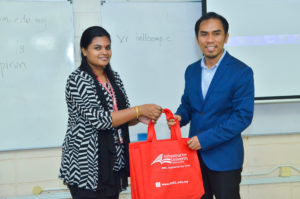 The students were exposed to new research topics in distributed and parallel environment. Real life demos were given to the students to show how the programming in distributed is implemented. It is truly an event not to be forgotten by the students.
Before leaving UPM, some tokens of appreciation were exchanged between the universities and we were also served light refreshments before leaving the green campus.
Students loved the entire field trip and look forward to more of such events. Thank you Measat and UPM.