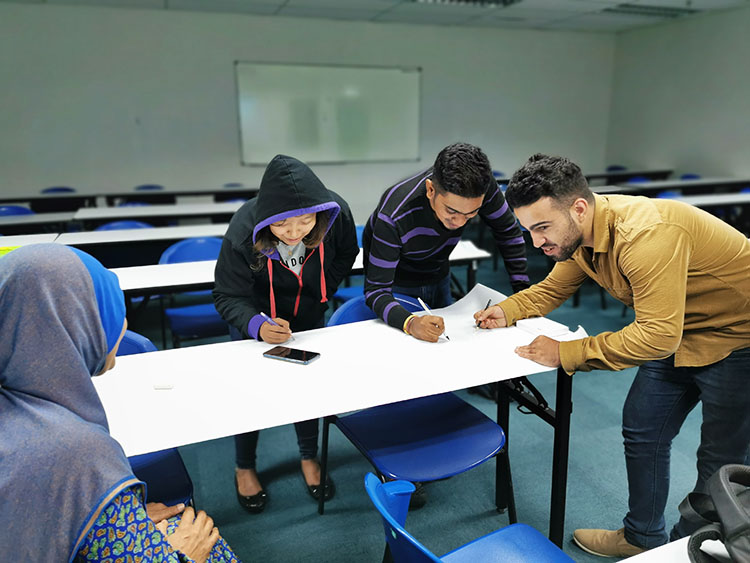 There is growing recognition of the significant effect on activities of the private sector on employees, customers, communities, the environment, competitors, business partners, investors, shareholders, governments and others. Investors and financial markets are beginning to see that CSR activities that integrate broader societal concerns into business strategy and performance are evidence of good management. In addition to building trust with the community and giving firms an edge in attracting good customers and employees, acting responsibly towards workers and others in society can help build value for firms and their shareholders. Businesses are an integral part of the communities in which they operate. Good executives know that their long-term success is based on continued good relations with a wide range of individuals, groups and institutions. Moreover, the general public has high expectations of the private sector in terms of responsible behaviour. At the same time, leading industry associations, such as the World Business Council for Sustainable Development, have also suggested that countries as well as companies might gain a competitive advantage from corporate social responsibility.
Corporate Social Responsibility (CSR) activity
The objective of this CSR activity is to enhance participation in the community and gain experience in volunteering activities. The main aim of this activity was to clean the IUKL university campus. This will enable students to create a cleaner learning environment and encourage them to promote and keep their university cleaner, greener and set good examples for the other universities to follow. In the Strategic Management class, Professor Dr Noor Saadah proposed this activity to us, explained its benefits to the community and how we can encourage others to participate in such activities. She then gave us the choice to decide the roles and responsibilities of the CSR group. Each of the members were assigned tasks accordingly ranging from the Project Manager, Finance Manager, Food and Beverages Manager, Writer, Certificate Designer, Games and Photographer who were Raihan, Precious Morisson, Kevin, Moataz, Idris and Mellissa respectively.
This CSR activity was under the advisory of Prof. Dr. Noor Saadah, the lecturer of MGMT 5710 (Strategic Management), one of the core papers in the Master of Business Administration program for this September semester.
We started our CSR activity at 9.00am 15th January by gathering at the old cafeteria of IUKL and decided to cover nearby areas. Indirectly, this activity also supported the cleaners. Apart from developing awareness, keeping and maintaining a cleaner campus environment it also encouraged students to throw rubbish at proper places or in dustbins. Students who noticed our activity would encourage others to participate in this activity to clean the campus. Prof. Saadah reminded us to wear gloves, take along plastic bags, hats, drinking water etc., then she gave a short briefing about the importance of the activity and how it should be conducted. We started from the old cafeteria and walked to the Faculty of Architecture and Built Environment (FABE), covered the whole area then started to collect rubbish from everywhere and put them in big garbage bags, and put them along the sideway, at a specified place for the cleaners to collect the bags. Plastic bottles lying around were collected, and dead branches and unused tyres were removed. We spent quite a long time to make sure that the area was 100% clean. At the futsal court there were old socks, broken shoes, plastic bottles, old packets drinks, left over cans. We collected all these while the rest took the responsibility to clean around the mosque. While we were walking toward block 11 we collected all the rubbish which made other students look at us, indirectly a reminder to them to throw rubbish only at designated places. There was much fun and laughter which could be heard by people who passed by, and they exchanged smiles with us. Upon the completion of our scheduled task, we walked to Mabrouk restaurant at De Centrum Mall for lunch.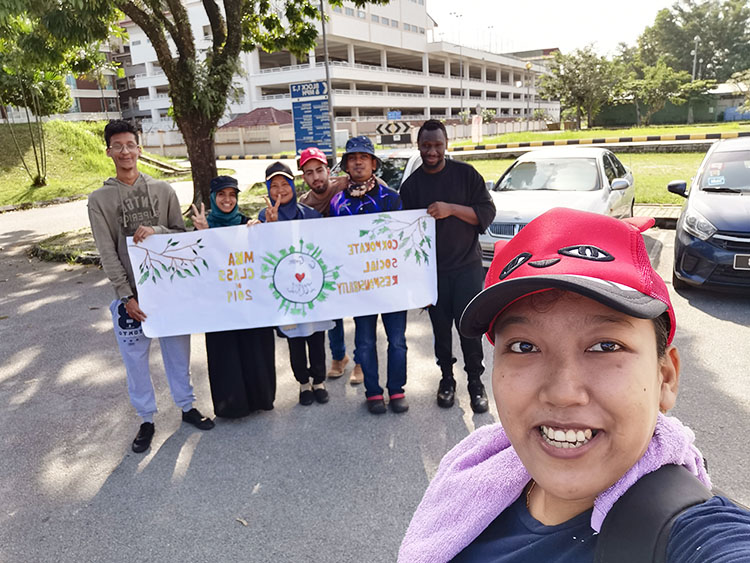 The truly amazing and priceless experience ended at 3pm followed by inspiring words from our advisor. We thanked her for such an opportunity and wished similar activities would be conducted in the future. Not only students are encouraged to be volunteers in the community but they also develop good teamwork and create a greener and healthier learning atmosphere while enhancing others to emulate from such inspirational activity