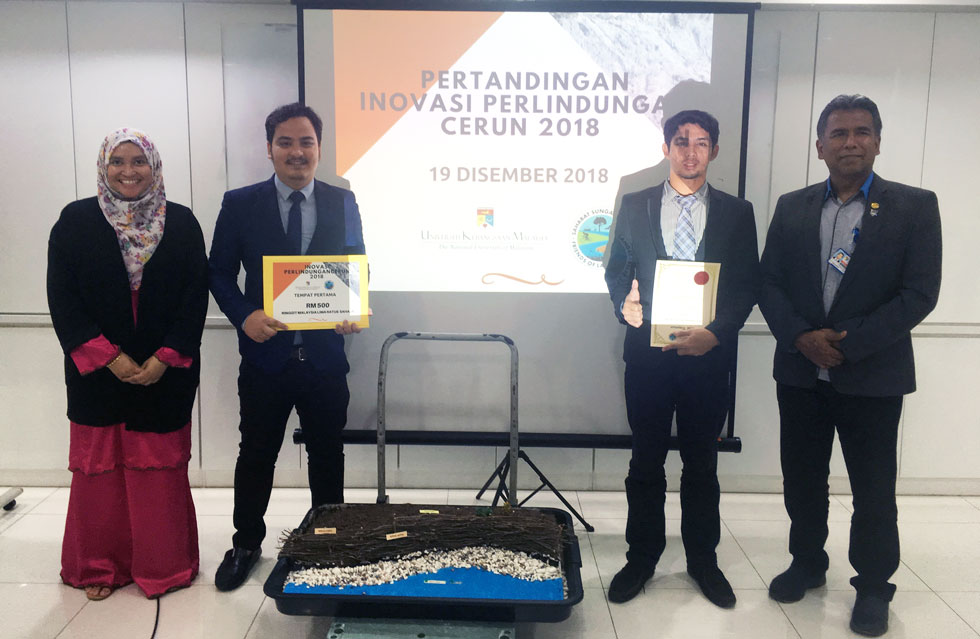 Three IUKL students from the Department of Civil Engineering, Faculty of Engineering, Science, and Technology (FEST) won the Gold Award in the River Bank and Slope Protection Innovation Competition organized by the Smart and Sustainable Township Research Centre (SUTRA) UKM and FRIENDS of Langat River.
The competition was held at the Faculty of Engineering and Built Environment, UKM on 19 December 2018. Three of our students participated in the competition along with students from other universities such as UKM, Universiti Pertahanan Nasional Malaysia (UPNM), and UCSI.
The students, Nor Farhanah Ab. Ghulam, Mohammed Hijran Farihin bin Mohammaddin and Wan Mohd Amirul Muslim Adli bin Wan Ismail dedicated their knowledge, time and creativity in promoting the use of Willow spiling technique for river bank and slope protection. All three students are currently in their final semester for Bachelor in Civil Engineering (Hons).
The main aim of this competition is to encourage the young generation to innovate new techniques for river bank and slope protection. Our students proposed design on the usage of Willow spiling for river bank and slope protection was evaluated based on its Technical Design, Green Technology, Innovation, Cost Estimation, Workability and Suitability of the selected materials. The use of Willow spiling promotes a potential alternative in protecting river bank erosion against fluvial erosion and bank failure, providing a green solution and erosion resilience to areas susceptible to erosion.
The winners walked away with a certificate and cash price of RM 500, which was presented by Dato' Prof. Dr. Ir. Wan Hamidon Wan Badaruzzaman, Chairman of Smart and Sustainable Township Research Centre (SUTRA), UKM.
Prototype of the river bank and slope protection technique using soil-bio-engineering Solution (Willow Spiling Method).