On the morning of January 20th 2017, a classroom in Block 11 of IUKL was decorated and rearranged by students taking a course called Seminar and Corporate Communication taught by Ms. Dil Froz. The 13 girls worked together to organize Hakuna Matata so as to de-stress IUKL students and lecturers at a time of demanding presentations, assignments and exams. Hakuna Matata, a Swahili phrase which roughly means "no worries" was popularized by the movie The Lion King.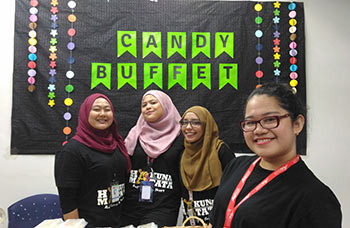 Themed "Hakuna Matata: Don't Worry Be Happy", the workshop was led by Mr. Perthpal Singh Khosa, an extraordinary motivational speaker who entertained the audience with hilarious stories and thought-provoking ideas that got everyone thinking, thus empowering them to kick start their passage to happiness.
Though the workshop started off as a requirement for the Seminar and Corporate Communication course, it quickly turned into a rewarding session of inspiring conversations, scrumptious snacks and lighthearted humor that melted away the stress and troubles of all those involved, like butter on a sunny summer day.
Ms. Dil Froz Jan bt Sayed Halem Shah, the organizer of the event, proudly said that her students applied the skills they had acquired in class such as building teamwork, perfecting time management and communication to make the event a success. Over 90 feedback notes were returned after the event and most of them expressed the hope that such seminars would be organized every semester.
The event which ran a smooth course was a spectacular success with the audience leaving the event with light hears and buzzing minds.