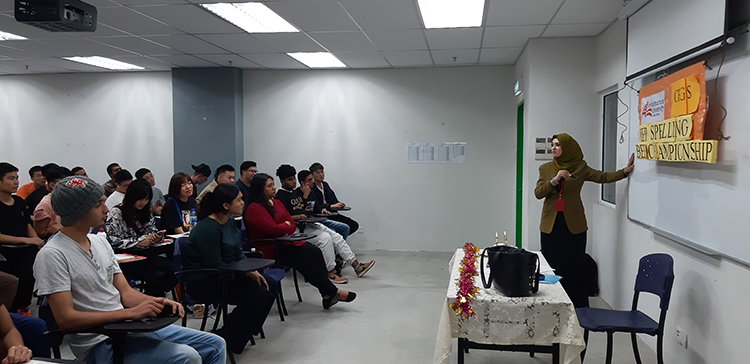 The Centre for Foundation and General Studies (CFGS) and the Head of the Intensive English Programme (IEP), Ms Zeena recently organised the IEP Spelling Bee Championship 2019 on 28August 2019 at Block 11. This event titled 'Enhancing Your English Spelling through IEP Spelling Bee Championship 2019' commenced with a welcoming speech by Ms Zeena followed by opening address by the Director of the Centre for Foundation and General Studies (CFGS), Ms. Nalinah A/P Poongavanam. The students were later briefed on the rules of this competition by Ms Zeena before the first round of this event. IUKL IEP students of all levels in the current June Semester 2019 took part in this event which required them to spell out English words as asked by the judges of this event Ms Nalinah and Ms Zeena. The students' performance in the first round of the competition determined whether or not they would be qualified to participate in the next level. This competition turned out to be a one-day event since the majority of the students of all levels were able to spell the words correctly in several rounds. This event was also attended by the IEP lecturers who gave their support to the students.
The judges found it difficult to determine the champion for each IEP level during the final round since two students per level were able to successfully spell the words, identify the meaning and parts of speech of the words. The event had to proceed with an additional round at 4.00pm when the students were asked to spell complex words to assess their spelling ability in this round. After this round, the champion for each level was finally identified. The champion for Level 1 was Al Zahli Talal Abdullah Mohammed while Wang Jiawei and Abdullahi Yahye Abdikarin emerged as champions of Levels 2 and 3 respectively. Each champion was awarded a trophy by Ms Nalinah.
The focus of this event is to improve IEP students' English spelling other than to give them the opportunity to enjoy using English language in a different way outside the classroom. Other objectives of this event are to strengthen the students' memory, provide the students the opportunity to test their English spelling, to increase students' English vocabulary level and to enhance the students' interest in English language. All the objectives of the event were achieved on that day. All students enjoyed participating actively in this event and look forward to competing in the next Spelling Championship. At 4.45pm, this event ended with a thank you speech by Ms Nalinah and Ms Zeena followed by a photo session with the IEP lecturers, winners and students.