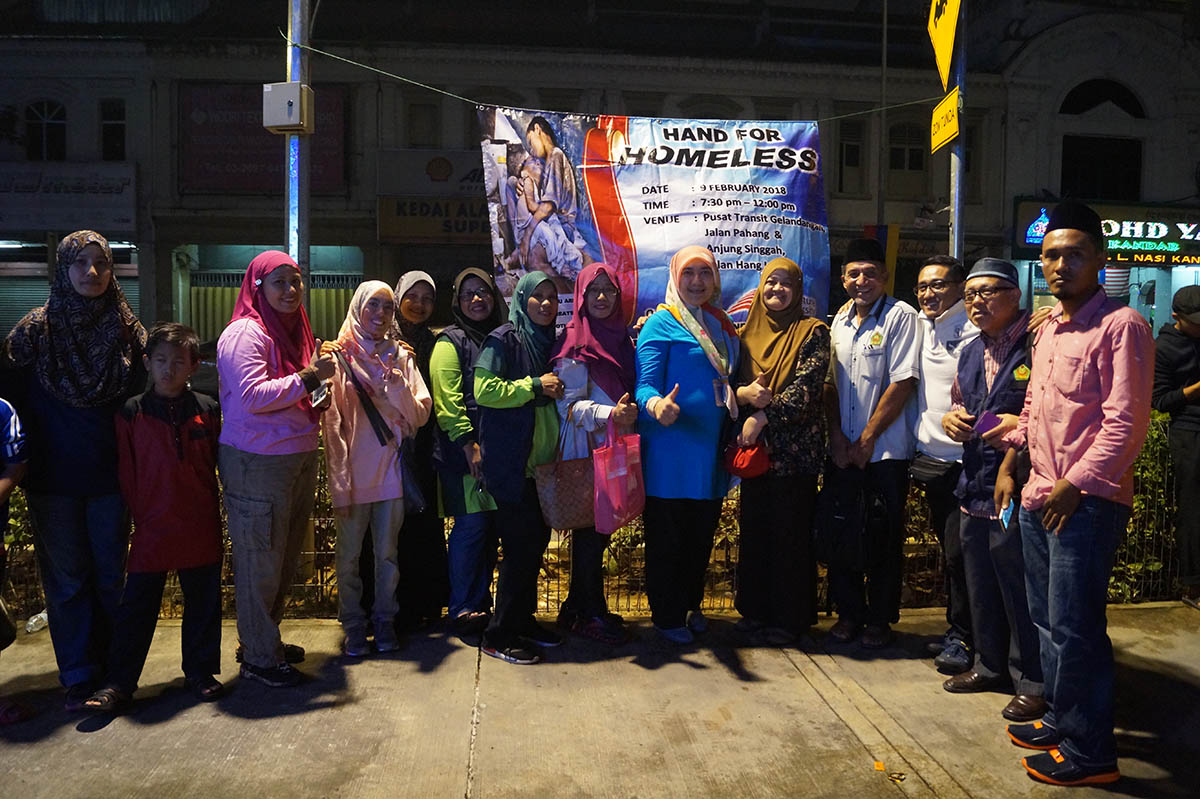 By: Ms. Nur Fatin Kasbun, Lecturer, Faculty of Business & Accounting.
'A HAND FOR THE HOMELESS' OUR FACULTY'S SOCIAL BUSINESS FOR CHARITY MISSION
Social business is cause-driven. It is midway between a business and a charity. The main rule is a business must cover all costs and make profit first before a business achieves its social objectives such as providing food, safe drinking water, shelter, education, healthcare for the poor, to make sure that the help can be sustained. Thus, the rationale is to make a profit and help the poor as well.
GREAT LEARNING PROCESS FOR THE NEW GENERATION — OUR STUDENTS
A group of Faculty of Business and Accounting (FBA) students and lecturers led by Dr. Rafidah Othman and Madam Nurashikin Hussein joined forces to carry out a charity mission to help homeless people in Jalan Tunku Abdul Rahman, Kuala Lumpur. The mission was held in collaboration with Briged Bakti, an NGO that has access to the homeless people there. The charity work included distribution of toiletries kit, snacks and pre-loved clothes. Despite all the challenges faced, we are proud that the mission was successfully accomplished.
At the end of the day, all the students and lecturers involved enjoyed this charity mission held for the first time. It was a great learning experience for all of us as we did things we never done before. According to Hadith Sahih Bukhari, Prophet Muhammad (pbuh) was asked "Which charity is the best?" He replied, "That which you give while you fear poverty".
"THE RESULT OF HUMANITY IS ALWAYS BEYOND CALCULATION"
Charity missions like this comprise composite skills that cannot be learned in class because in real life it is not all about getting an 'A' academically that matters. Experiences are essential for the youth as well.
Professor Muhammad Yunus (the pioneer of Grameen Bank – Microfinance) once said, "Bring into the curriculum the idea that business does not have to be profit maximizing. You can design it to solve people's problems while you recover your costs and recycle your money. They can have assignments to design businesses to solve problems. There are many universities setting up social business centres and teaching this. Every business school should be offering this curriculum". Due to the success of the mission, FBA plans to have more charity missions in the future.
SOMETHING TO PONDER UPON
Reflecting on our lives, whether we realize it or not, we have a lot of complaint and dissatisfaction. But those poor people accept their lives as it is. Leo Tolstoy highlighted this when he wrote, "In contrast with what I had seen in our circle, where the whole of life is passed in idleness, amusement, and dissatisfaction, I saw that the whole life of these people was passed in heavy labour, and that they were contented with life. In contradistinction to the way in which people of our circle oppose fate and complain of it on account of deprivations and sufferings, these people accepted illness and sorrow without any perplexity or opposition, and with a quiet and firm conviction that all is good". Indeed, we should be in grateful for our lives and treat this experience as something that makes us more loving and caring. Thank you to everyone who had contributed funds, time and effort to make the charity mission a successful one.