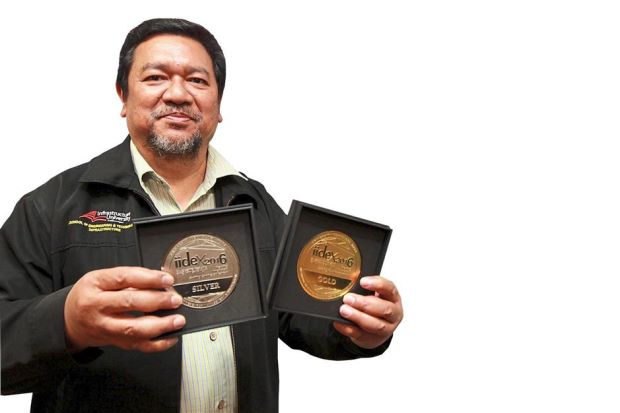 MALAYSIA is blessed to experience few natural disasters, and yet, landslides seem to be a yearly occurrence. Most of these happen on slopes that have been altered to make way for roads. What is worse is that the speed at which a landslide occurs does not give motorists time to react. As a result, there are often many casualties in a landslide.
To alert motorists about this possible disaster, researchers from Infrastructure University Kuala Lumpur (IUKL) and Universiti Teknologi Mara (UiTM) have collaborated to produce the Landslide Risk Navigator Map (LaRiMap) and Advanced Landslide Warning Signage (ALWS).
LaRiMap notifies users of the landslide risk in an area, while ALWS are warning signs that alert road users when they come to an area prone to landslides.
<p?LaRiMap – the first of its kind in Malaysia – won a gold medal at the Invention, Innovation and Design Exposition (IIDEX 2016), held at UiTM Shah Alam, Selangor from Sept 20 to 23. ALWS won a silver.
It took the 10 researchers a whole year and a RM20,000 grant to develop both the technologies. The team was led by IUKL president and vice-chancellor Prof Dr Roslan Zainal Abidin.
Prof Roslan, who is an expert in landslide and hydrological research, said: "LaRiMap uses Google Maps and radar to pinpoint dangerous and high-risk areas."
"It calculates rainfall erosivity to predict the risk of a landslide happening, and is updated every 10 minutes.
"That serves as an early warning to road users, who can then plan a safe time or route for travel," he said.
There are three types of maps – future risk, current risk and landslide. The first highlights landslide prone areas and dangerous travel periods on roads situated next to critical slopes, so motorists can avoid using them at that particular time.
The current risk map informs users of dangerous slopes in real-time so they can take the necessary precautions. Should disaster strike, the landslide map alerts motorists so they avoid using that particular route.
Prof Roslan said the team is in the midst of getting a copyright and hopes to make LaRiMap available to the public via a phone application by mid 2017.
Once the app is available, users can download it to smart devices such as handphones that have WiFi signal. And as the app is embedded in Google Maps, motorists can use it for navigation as well.
LaRiMap can also be used by the local authorities to monitor critical slopes and provide immediate assistance in the event of a landslide.
ALWS is an enhanced model of the Landslide Warning Signage system. It offers details such as the location of a slope, the distance to high risk areas, a website on landslide information and the phone numbers to call when you are caught in a landslide.
Signboards are also equipped with warning lights, floodlights, cameras and indicative lights that are controlled by WiFi.
"We hope the availability of these inventions will be able to save lives," said Prof Roslan.
Source: The Star