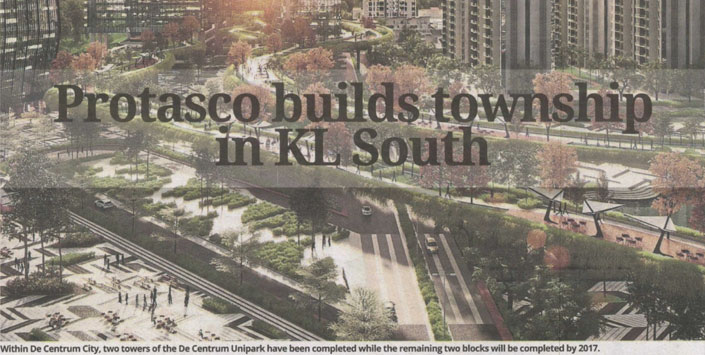 KUALA LUMPUR — Undeterred by the prevailing economic conditions, Protasco Bhd unveiled its plans for a new township, De Centrum City, with an estimated gross development value of RM10 billion. The proposed megaproject, perched in prime locality and close proximity to education institutions, is a "sound long term development", said the developer. "We own the entire prime land of De Centrum City which is unencumbered so there is less pressure on us to achieve unrealistic targets as we can pace our growth to coincide with general economic growth.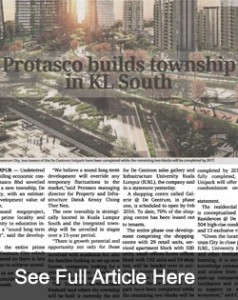 "We believe a sound long term development will override any temporary fluctuations in the market, "said Protasco managing director for Property and Infrastructure
Datuk Kenny Chong Ther Nen. The new township is strategically located in Kuala Lumpur South and the integrated township will be unveiled in stages over a 15year period. "There is growth potential and opportunity not only for those involved with academia but also for families looking to set up new homes, companies looking for a prestigious address outside the city, businessmen and investors." The 100acre (40.46hectare) freehold land where the township will be built is currently the site for De Centrum sales gallery and Infrastructure University Kuala Lumpur (IUKL), the company said in a statement yesterday. A shopping centre called Galerie @ De Centrum, in phase one, is scheduled to open by Feb 2016. To date, 70% of the shopping centre has been leased out to tenants. The entire phase one development comprising the shopping centre with 29 retail units, serviced apartment block with 320 units, small offices/home offices block with 192 units and 54 shop lots, will be handed over to purchasers around Dec 2015. Within De Centrum City, two towers of the De Centrum Unipark have been completed while the remaining two blocks will be completed by 2017, and when fully completed, De Centrum Unipark will offer a total of 640 condominium units, said the statement. The residential development is conceptualised as Rimbawan Residences @ De Centrum with 504 highrise condominium units and 13 exclusive villas. "Given the location of De Centrum City in close proximity with IUKL, University Putra Malaysia and other institutions of higher learning, it is envisioned that a knowledge community will grow and evolve from here — with startup companies, technology incubators and other amenities to support an entrepreneurial ecosystem," said Chong.