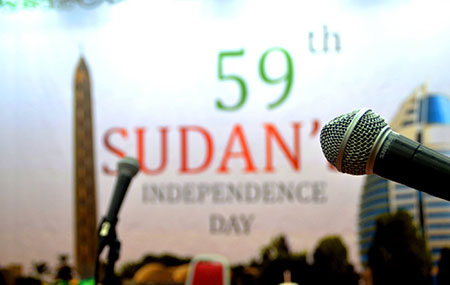 Interesting was the word of mouth among students who participated in the Sudanese Independence Day at IUKL last week, 14 January 2015. This year, the Independence Day was celebrated with the spirit to remember and share the history and culture of the country. As to give a glimpse of their country and culture, the Sudanese student society organised a showcase on 13 January.

It helped students of IUKL to know the paraphernalia that the Sudanese use, their dress code and their food. Most importantly, the Sudanese student society played the videos depicting the historic moments. This somehow inspired many non-Sudanese students to attend the big celebration on the next day.

On the big day, the hall was well decorated with green, red, white and black balloons as well as the red carpet with flowered arch. Students awaited the arrivals of VIP at 7.30 pm. The IUKL Management, Sudanese Ambassador and other embassy officers made their grand entrance.

The Deputy Ambassador from the Embassy of Sudan, Mr Mohammed Margani gave his speech, which followed by a video presentation on Sudan and dance performances. Amidst of songs and drama performance aligned to enlighten the student, VIPs were served with their sumptuous delicacies.
The standing roars made for the independence rap. Nevertheless, regardless of north, south, east or west of Sudan, the students enjoyed all the performance. They cheered throughout the programme and everyone present experienced true meanings of independence celebration.

The Sudanese students were all very happy to be able to celebrate the day at IUKL. This event certainly gave them the feeling of being home in Sudan.