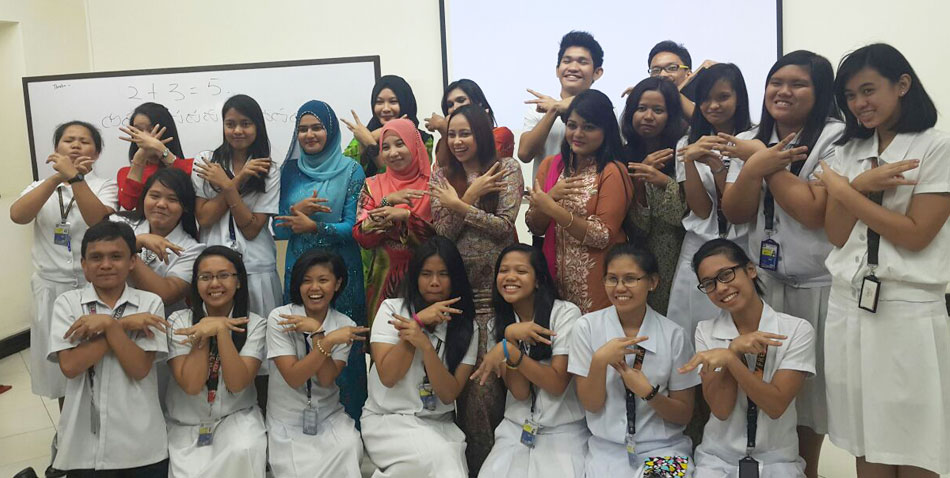 Philippine Normal University PNU (Manila) & Technological University of the Philippines TUP (Manila)
12-15 August 2015

The Faculty of Arts, Communication and Education made a Study Visit from 12 – 15 August, 2015 to two prominent public educational institutions in the Philippines, the Philippine Normal University (PNU) and Technological University of the Philippines (TUP) as part of the Department of Education's annual activities.
A total of 14 IUKL students participated in the Study Visit to the Philippines. They were accompanied by Assoc. Prof. Dr Seloamoney Pallaniandy and Dr. Karthiyaini Devarajoo from the Department of Education, Faculty of Arts, Communication and Education.
We arrived at the Ninoy Aquino International Airport, Manila at about 12.20pm on the 12th August 2015. We were received by Dr Emelie M.Garcia, Prof. Alice Aguilar-Lucas and Dr. Gina l.Basa. They accompanied us to the hotel and ensured our comfort.
The next day on the 13th August, we arrived at the Philippine Normal University (PNU) at 10.00 am and were met by their faculty members and students. We were greeted by the Vice President for University Relations and Advancement (Left and Third from Right below) Dr. Felicia I. Yeban. She also gave the welcome speech before AP Dr Seloamoney Palaniandy's presentation. After Dr Seloamoney's Sharing Session, our IUKL students performed a Malaysian cultural dance and the PNU students tried out the steps with much enthusiasm.
After this session, we had lunch with the Management Team of PNU. The VP Dr Felicia introduced other PNU Management members to our team. The Director of a PNU campus in South Luzon, Prof Edgardo S. Villasenor was keen to make links with our Civil Engineering Department for content support in training of teachers for engineering subjects.
The next day we were at TUP and the President of TUP, Dr. Adora S. Pili (Third from Left) greeted all participants with a welcome note. She is the first female president for the university. It was a grand event with Board of Directors of UN Philippines gracing the event. The Opening Remark was delivered by retired judge cum President of UN Philippines Justice Aurora Recina (Second from Left), the Patron of this event.
The students of TUP's Kalinangan Dance Troup presented three different performances including a Philippines native dance and an impressive choir rendition.
After lunch we were whisked off for a city tour in their university bus. Two of their lecturers, D. Helen D. Caparas (Ex-Dean) (first from Left) and Dr. Mila (second from Left) accompanied us to the Philippines National Muzuem and the Rizal Park.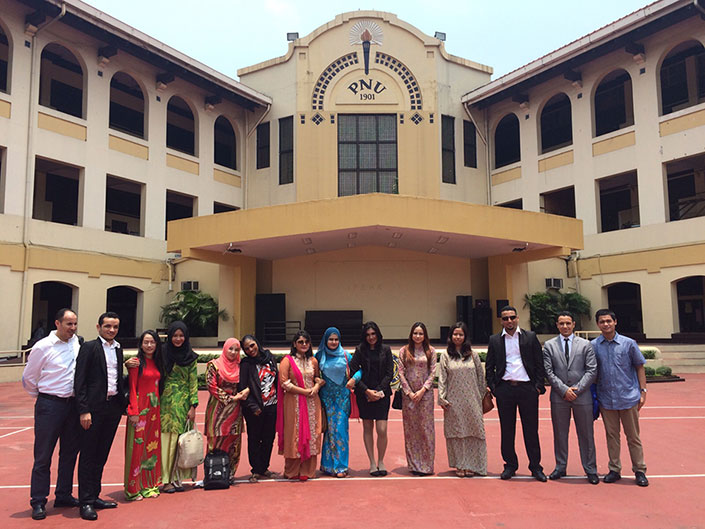 STUDENT FEEDBACK on the visit
"I got the opportunity to visit the oldest university of the Philippines. I met new people, made contacts with their lectures and committee members and it was something beyond of my expectations. I had the opportunity to see how they run their education programmes. Besides this, it was the first time I attended any seminar under United Nations. This experience is priceless."
Arunima Hossain; Programme:BCIMC
"As a constructive idea that is globally practiced by higher education quality education providers, the Study Visit to Philippines organised by FACE/IUKL was obviously priceless and value added in terms of its returns and its influence on the students satisfaction towards IUKL. As a participants I gained new knowledge and ideas about the Philippines and the Filipinos."
Abdalmula Ali Ajaj; Programme:MBA
"Through this Study Visit, I learned that education does not differentiate the level of civilization or economic status and condition of any country. I realised that although the students in the Philippines may not be getting the best facilities, but they have good education providers who are willing to guide and spread knowledge to them."
Nursheryna Edian Bt Eddy Chardy; Programme:MBA
 "After this Visit, I realise that students can learn wherever and whenever, if they are ready. It is good for FACE/IUKL to link with the South East Asia teaching network such as at PNU, the Philippines and also Singapore, Thailand and Vietnam."
Phan Thi Kim Yhao; Programme: MA TESOL
"This Visit enabled us to be aware of issues around the world. It makes us open-minded and to think beyond the box. We were also able to share our culture."
Lily Marlina Mohd. Yunus; Programme: MBA
"The universities we visited impressed me immensely with their students' dedication and discipline to learn to be better persons. I also met a few brilliant people while learning the Filipino culture. This was an experience of a lifetime for me."
Mashuka Tabassum: Programme: BEPC
"The impressive thing about this Visit is that students are exposed to cross-cultural learning. It is a very valuable and beneficial experience that students gained by learning and understanding other people's cultures."
Atikah Nasir; Programme: MBA