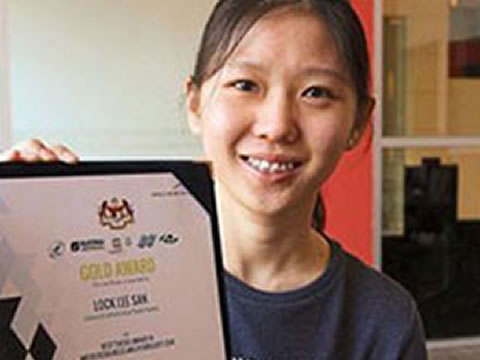 SHE has always dreamt of saving the environment since she was a little girl.
It was a dream come true when Lock Lee San bagged the Gold Award in the Bachelor Degree Category for Best Thesis Award in Water Resources and Hydrology 2016 by the Department of Irrigation and Drainage.
Her thesis for her final year project was using durian leaves to reduce heavy metals from industrial waste water. Lock who is a Universiti Infrastruktur Kuala Lumpur (IUKL) graduate never expected an award for her work, saying that she was extremely surprised when an e-mail notified her of her "big win".
"I wasn't even aware of such a competition. I am thankful to my supervisor who encouraged and entered me for the competition," said the Bachelor of Technology in Content and Waste Water graduate. Lock said she was inspired by the idea of using "local produce" to improve the country's environment by tackling its waste water system.
"One of my seniors' research was in reduction of heavy metals in waste water. I added on findings of my own to improve on it. "Many people are not aware that durian leaves can be used as a bio-absorbent to remove heavy metals from industrial waste water," she said.
It is widely available in the country and environmentally friendly, making it the perfect absorbent which is also cost effective, she added. Lock who won RM2,000 in cash, said she spent four months to produce her award winning thesis. "I spent up to six hours every day for three whole weeks just to get the experiments right," she said.
She added that the experimentation process had to be done meticulously as one small error would "jeopardise the whole thing". Lock put in a great deal of effort from plucking durian leaves to drying them. "They have to be dried under the hot sun for seven days before they can be baked in the oven until all moisture has gone. After that is done, the leaves are ground into powder. The experiment then begins. "The durian leaf powder is then added into artificial waste water and a sample has to be taken and recorded every five minutes," she added.
Although it was fairly "smooth sailing", she did face some challenges in calculating the measurements required for the many experiments. "I would not have solved it without guidance from my supervisor and friends," she said. Lock said her supervisor did not "spoon feed" answers but encouraged her to to find the solutions on her own. She thanked IUKL staff for their support.
"The institution offered the exact course I wanted. Most importantly, the course structure allowed me to acquire a good base and knowledge to pursue my quest of saving the environment," she said. — By LEE CHONGHUI
Source from The Star Online