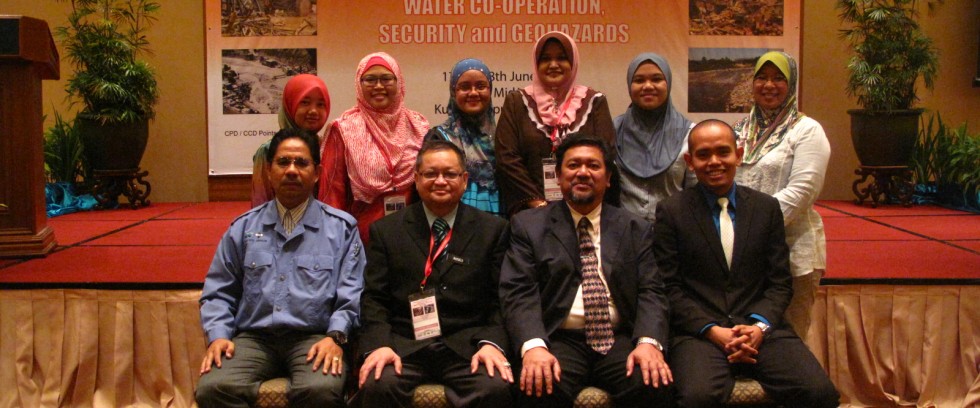 From 17th to 18th June 2013, the "Seminar on Geospatial Disaster and UNESCO Help Basin: Water Co-operation, Security and Geohazards" was held at the Cititel Mid Valley, Kuala Lumpur. This seminar was jointly organized by Infrastructure University Kuala Lumpur (IUKL) and Humid Tropics Centre Kuala Lumpur, Jabatan Pengairan dan Saliran Malaysia in collaboration with the Institute for Environment and Development (LESTARI), University Kebangsaan Malaysia (UKM) and the Centre for Sustainable Technology and Environment (CSTEN) of Universiti Tenaga Nasional (UNITEN).
About 80 participants from a broad category of professions participated in the seminar and 11 papers were presented. One of the papers was by our very own IUKL President and Vice Chancellor, Prof. Dr. Roslan Zainal Abidin, who presented on "River Bank Erosion: Risk Potential with regards to Soil Erodibility". The welcoming address was delivered by the Director of Humid Tropics Centre Kuala Lumpur, Dr. Haji Mohamed Roseli Zainal Abidin.
The overall objectives of the seminar were:
• To discuss issues, challenges and prevention of geospatial disasters
• To disseminate current information on methods used in the prevention of geospatial related disasters
• To provide a platform for knowledge sharing on geospatial related disasters among industry players, academicians, government and private sectors
This two (2) day seminar hoped to benefit participants by enhancing knowledge, management skills, in planning, design, in the execution of works, in academic, research and development including commercialization of services and products.