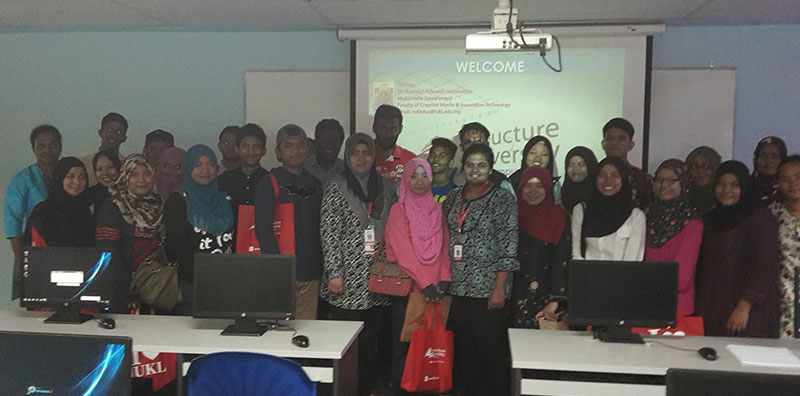 The rapid development and the growth in the use of technology have played an important role in the education sector. Multimedia is one of the many fields of IT that is interesting to be explored.
On the 18th of March 2015, the Faculty of Creative Multimedia and Innovative Technology (FCMIT) has organised a Microsoft Publisher and Flash Workshop for SPM and STPM leavers. The event was held at the UNIX Lab, Block 2, IUKL. A total of 24 participants came for the workshop.
The goals of this workshop are to:
Introduce the Microsoft Publisher as an editor and layout tool for printed and digital publications. Also as part of the Microsoft Office productivity suite.
Demonstrate and teach how to use Flash, one of the most popular software that facilitates viewing multimedia applications.
The workshop started at 9.00 am led by Dr. Robiatul A'dawiah Jamaluddin, our Multimedia lecturer and assisted by Madam Hafiza Ahmad and Madam Suhaila Sardi.
During the first session, the participants were taught on how to use Publisher to create, edit, customize and share all sorts of marketing materials, with ease of use to generate professional results. Refreshments were served at 10.40 am.
The second session began at 11.00 am and the participants were taught how to design and animate images using Flash as it is essential for performing various functions which includes applying Internet applications as well as streaming of videos and audio. The participants enjoyed the workshop and manage to create their task successfully.
At the end of the workshop, the participants were briefed on all the programmes offered in IUKL by the Marketing team. Certificates were then given to all participants by our respective Dean, Madam Sangeetha Valloo.
Apart from introducing the importance of IT and Multimedia to the participants, this workshop is conducted to promote our programme especially offered by FCMIT to future potential students. The participants will now have a better understanding about this field. Hopefully, the event will be a precious and memorable experience to them.