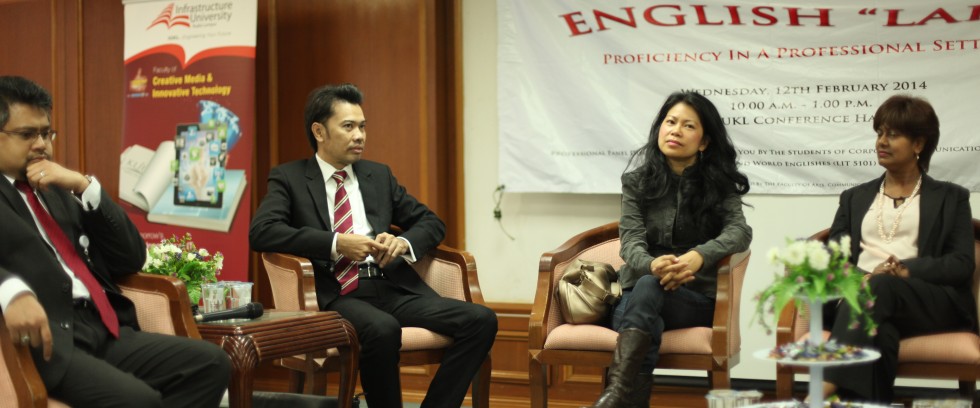 On 12th February 2014, the students undertaking the course, 'Corporate Communication' under the Department of Communication, Faculty of Arts, Communication and Education (FACE) organised a panel discussion called 'English "LAH": Proficiency in a Professional Setting'. This event took place at the Conference Hall and was attended by 80 to 100 staff members and students.
The topic of the discussion received a good reception as the Conference Hall was packed throughout the three hour session. In this lively discussion, the panelists shared their insights on the English-based creole (or Manglish) as spoken in Malaysia and whether it is acceptable in professional settings.
The invited panelists were Associate Professor Dr. Christiantine Della, the Vice- President for Academic and Quality Assurance, IUKL; Associate Professor Dr. Ganakumaran Subramanian, the Director of Studies, School of Education, University of Nottingham and President of the Malaysian English Language Teaching Association; En. Amir Mahmood Razak, Director of Strategic Communication and Public Relations for MRT Corporations; Ms. Yang Mee Eng, Departmental Head of Strategic and Planning in Creative Multimedia for the Multimedia Development Corporation (MDeC) and Tengku Adrian Tuan Ismail, ex-Senior Management in Communication and Public Relations for Felda Global Ventures.
Lunch was served at the end of the session and the attendees received goodie bags as door gifts.