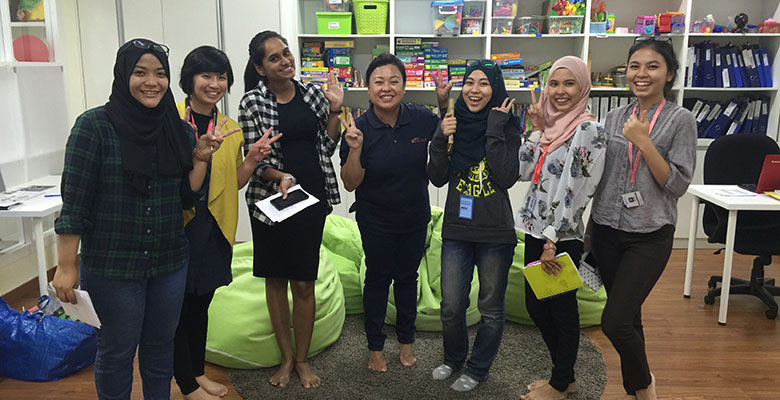 On the 27th April 2016, the Bachelor of Arts (Hons) in Teaching of English to Speakers of Other Languages (TESOL) students from the Language Deficient Learners (EDU 3543) course organised an educational visit to Brightstars-Life Skills for Exceptional Kids, which is located at Oasis Square, Ara Damansara. Brightstars is a holistic special-education school for children with autism, ADHD and learning challenges. This school provides 1:1 therapist to student ratio learning environment. Each student receives Applied Behavior Analysis (ABA), occupational therapy and sensory integration therapy, functional academics, music therapy, life skills, social skills, cooking, gardening art and craft. The objective of this visit is to expose TESOL students to strategies of teaching students with special needs.
With this exposure, our TESOL students are more aware and prepared to adapt their teaching strategies to assist exceptional learners, if the need arises in the future.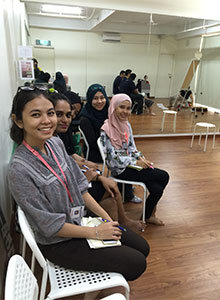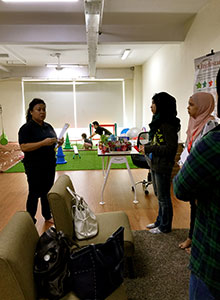 Lecturer Ms Cammy Low and her students arrived at Brightstars at 1 p.m. and were warmly welcomed by the principal, Ms. Marrisa Ali.
Ms Marrisa was glad to meet up with the IUKL TESOL students. She addressed them as future educators. She started the sharing session by briefly introducing herself and several of her therapists.
She explained the roles and responsibilities of an occupational therapist in helping the autism students in their learning.
Then, she showed us the facilities and programmes offered at Brightstars.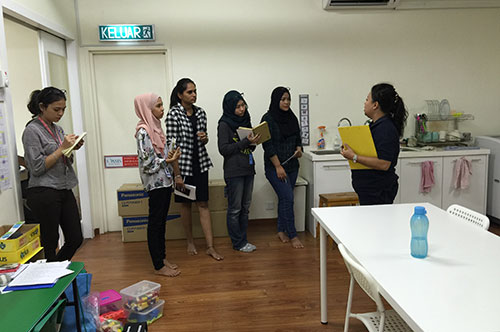 Ms Marrisa shared some effective teaching strategies to manage children with special needs:-
Use positive reinforcement such as praise the children immediately to all the correct behaviors.
She disagreed to the use of punishment as it can encourage the negative behaviors in the future.
Tell students what to do rather than what not to do. If the teacher says "No, you cannot to do that", many children, especially children with special needs, will remain clueless on what they are supposed to do.
Prepare Visual Schedule for each student. This is an essential tool for all the children with special needs. With the visual schedule, the students will be able to follow instructions and this keep them aware of any upcoming activities.
Prepare reward system chart for each individual. This chart is important to emphasize recognizing good behavior. Rewards should be in the form of activities that the child prefers to do instead of sweet treats.
In addition, my TESOL students had the opportunity to observe the use of music therapy in encouraging students with special needs to learn vocabulary and improve their social skills.