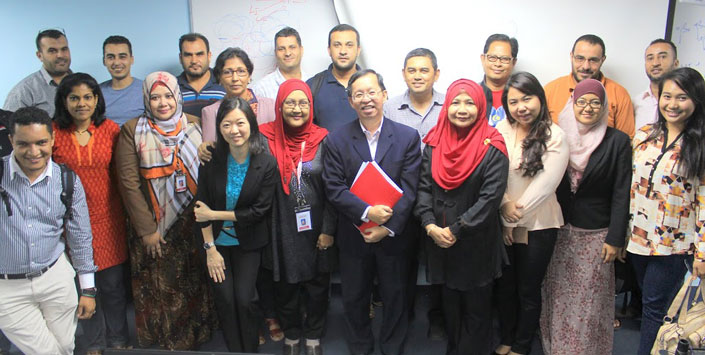 On 26 August 2015, Faculty of Arts, Communication and Education (FACE) in collaboration with Centre for Postgraduate Studies (CPS) conducted a workshop on Advanced Statistics Using SPSS.
The main objective of the training is to train participants to use SPSS to perform advanced statistical analyses. Unlike beginner courses, this workshop focuses on inferential statistical techniques like Chi-square, T-Test, correlation, regression and ANOVA.
The invited trainer was Assoc. Prof. Dr Chang Peng Kee from Universiti Kebangsaan Malaysia. Assoc. Prof. Dr Chang touched on research hypothesis and steps in hypothesis testing (for SPSS). He pointed out the importance of statistics as a decision making tool. Students need to know statistics to conduct research for project paper or thesis and must be exposed to basic statistics to enable them to pursue higher level studies and read and comprehend scholarly literature.
Assoc. Prof. Dr Chang guided the participants in carrying out statistical analysis like correlation and regression. At the end of the workshop, the participants became familiar and competent in using SPSS by having the know how in the SPSS procedures like defining variables, entering data, doing data editing, doing data transformations and running statistical procedures like Chi-square, T-Test, correlation, regression and ANOVA.