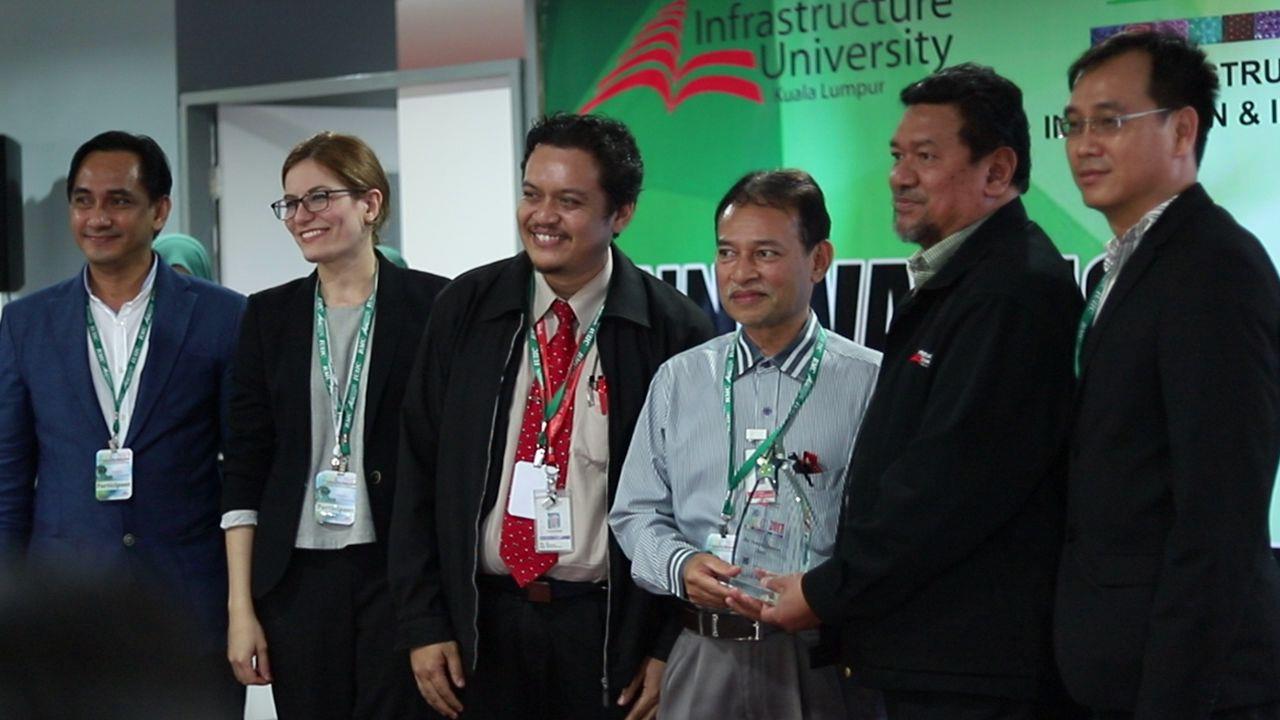 BEST INVENTION AWARD & GOLD MEDAL
@ Invention & Innovation Competition (IUIIC) 2017
Project Title: Development of Solar Powered Bamboo Catamaran
THE annual Infrastructure University Kuala Lumpur Invention & Innovation Competition (IUIIC) has been a great showcase of exciting inventions and innovations by the Infrastructure University Kuala Lumpur (IUKL) academic community since 2011.
The IUIIC 2017 competition focused on the need to balance the triple Ps, namely Profit, People and Planet.
The theme for the competition was "Innovating for Sustainability". IUKL is committed towards solving real-world problems through innovations that require less energy, improved efficiencies, reduced waste, clean energies and sustainable chemistries.
Innovation is all about doing something better.
To innovate sustainability, however, goes beyond just green products and environment-friendly packaging.
It is about improving business processes, increasing efficiencies, reducing waste and saving costs.
Each idea that contributes to the protection of the environment matters, as the impact is on the global scale, our planet.
IUKL is poised to be at the forefront of sustainable innovation in engineering, architecture and building designs, life sciences and chemistries, corporate and business processes, and the Internet of Things.
This was evident at IUIIC 2017 where game-changing ideas were presented for the first time on green innovations such as remote environmental monitoring, green building designs and sustainable building materials, to advance biomaterial engineering.
The year's competition had a new exciting feature where each team was required to pitch their idea or product to a panel of industry experts.
Points scored would contribute to the overall marks for each team's product entry.
Two MoU signing ceremonies were held during the competition.
The first MoU to be inked was between IUKL and the Department of Irrigation and Drainage for a five-year research and academic collaboration on water resource management, river engineering and flood mitigation system for Malaysia. The collaborative research will involve the development of new predictive models and risk mitigation system for flood and storm water management.
This would involve experts from IUKL's Geo Disaster Research Centre and the Faculty of Engineering and Technology Infrastructures. The second MoU was between IUKL and a private biotechnology company for a two-year research and commercialisation collaboration on synthetic antibodies and biosensor applications.
Antibodies are currently the most valuable biomaterial in the biomedical and biotech industry.
The research and commercialisation work will tap biotech experts from the Faculty of Applied Science and Foundation Studies.
Source: The Star Online