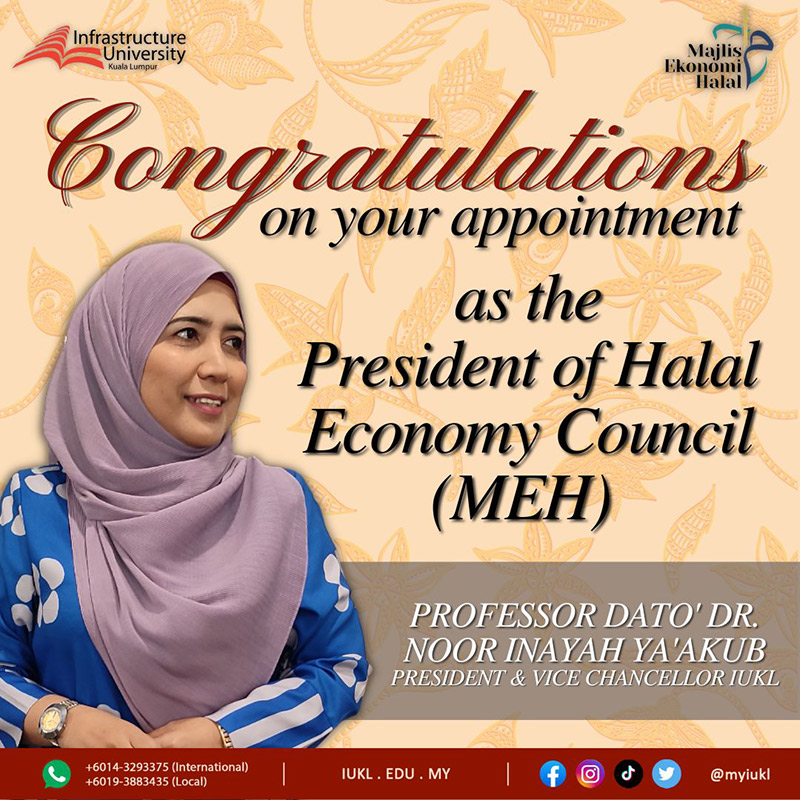 GENERAL SECRETARY'S MESSAGE REGARDING THE APPOINTMENT OF YBHG. PROF. DATO' DR. NOOR INAYAH BINTI YA'AKUB AS PRESIDENT OF THE HALAL ECONOMY COUNCIL (MEH).
Kuala Lumpur 13 October 202
Bismillahir Rahmanir Rahim & Assalamualaikum,
As the General Secretary of the Halal Economic Council (MEH), on behalf of all members of the Halal Economic Council, I would like to extend my heartiest congratulations to YBhg. Prof. Dato' Dr. Noor Inayah binti Ya'akub on her appointment as the President of the Halal Economic Council (MEH). Many thanks to her for accepting our invitation as President.
The fact is that MEH is very lucky to have her services. Prof. Dato' Dr. Noor Inayah has extraordinary credentials in multiple dimensions.
Prof. Dato' Dr. Noor Inayah is an intellectual, Islamic finance expert, lawyer, prolific manager and a great woman who has received national and international recognition. Through her involvement in MEH, she will portray her appearance as a philanthropist as well, God willing.
In the Islamic sector, she was awarded the Tokoh Maal Hijrah of the Federal Territory in the scholarship category in 2019.
In the Islamic finance sector, in 2019 & 2020 she was ranked 22nd among the 300 most influential women in the world in Islamic Finance according to a chart published by the UK Cambridge Financial Association 2020.
In the higher education sector, she currently holds the position of Board Member of Penang Islamic International College of Technology; in addition to having held the position of Rector & CEO of Baitulmal Federal Territories Professional College. She is also a member of the Development & Baitulmal Committee, Selangor State Islamic Religious Council (MAIS).
In the field of law, she was awarded The Best Business Law Professor by The Golden Globe Tigers Award Malaysia in 2019.
Her most strategic position for MEH is her position as Vice Chancellor & President of Infrastructure University Kuala Lumpur (IUKL), a university full of innovation. In collaboration with IUKL, MEH intends to develop a Halal Management Program that will become a platform towards the Chartered Institute of Halal. She is also the Chairman of Amanah Raya Trustees, a respected agency.
The most valuable experience, expertise, skills and network she has that MEH can benefit from is in the field of endowment and waqaf. This is in line with MEH's vision in issuing Halal Waqf Funds and Halal Economic Sukuk as venture capital instruments in financing the growth of the Ummah's halal economic sector. Likewise, MEH's desire to realize the Chartered Institute of Halal is increasingly viable with its presence.
MEH is excited for her willingness to lead MEH because it adds value to MEH's vision which strives towards promoting Rezkinomik. She is an asset towards engineering an Islamic economic model in the contemporary era – it is not an option but a must in fulfilling the demands of Tauhid & Muamalat.
Today MEH is proud to have two great figures leading MEH namely YBhg. Prof. Tan Sri Dr Syed Hamid Albar who is the Chairman of the World Islamic Economic Forum Foundation (WIFE) as Chairman of the MEH Advisory Board and most recently with the presence of YBhg. Prof. Dato' Dr. Noor Inayah binti Ya 'akub as the President of MEH.
Welcome to the Halal Economic Council (MEH) and good luck striving in building a civilization of Islamic knowledge and economy in the end times. May Allah accept our repentance and be pleased with the entrepreneurship of this community. God willing. Peace be upon him.
Credit to Helmi Ibrahim
General Secretary of the Halal Economic Council (MEH)