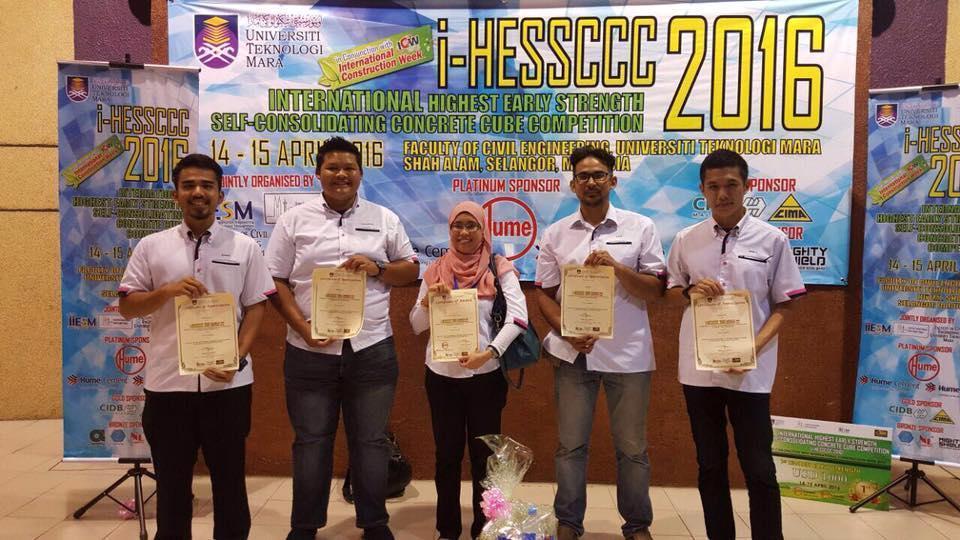 Infrastructure University Kuala Lumpur (IUKL) won the 5th Best Presentation Award in the International Highest Early Strength Self-Consolidating Concrete Cube Competition (i-HESSCCC 2016). The concrete cube competition was held at the Faculty of Civil Engineering, Universiti Teknologi Mara (UiTM) Shah Alam, 14th-15th April 2016 in conjunction with International Construction Week (ICW) 2016.
42 teams from institutions and industries participated in the i-HESSCCC 2016. IUKL was represented by, Dyg. Siti Quraisyah Bt. Abg. Adenan (Advisor), Ihsan Ahmad Nainy, Abdul Warith Muhammad Philip, Kamarul Izzulaslam Kamarulzaman and Muhammad Zuhair Abdul Rasid from the Faculty of Engineering and Technology Infrastructure.
The award was presented by Serina Ho Chia Yu, President American Concrete Institute – Kuala Lumpur Chapter (ACI-KL Chapter). The research topic presented by the IUKL team was Concrete Mix with Recycle Industrial By-Product for Highest Early Strength Self-Consolidating Concrete.