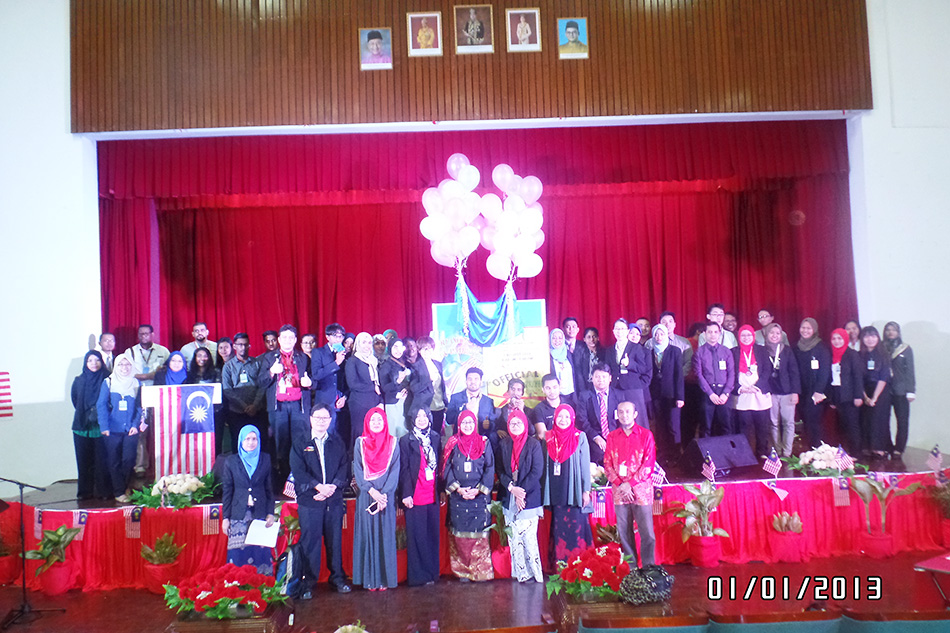 Infrastructure University Innovation and Invention Competition (IUIIC) is an annual event that showcases innovations and inventions from IUKL's academic community. This is a platform where participating teams compete for recognition and accolades for the best innovations or inventions in the form of developed products, services or technologies.
As part of the continuing efforts to inculcate the culture of research and innovation among our researchers and students, the 7th IUIIC was held in parallel to the "Patriotic Song Contest" as one of the activities of the prestigious event, NYALA 2019 at the same venue and time on 01 August 2019 (Thursday) at Multipurpose Hall, IUKL. The theme for this year's competition was "Ensuring Sustainability For Tomorrow".
It is our great honour to have both Prof. Dr. Ideris Zakaria (Vice-Chancellor) and Assoc. Prof. Dr. Kong Wei (Deputy Vice-Chancellor) to launch the opening ceremony for both events at the same time.
A a total of 16 IUKL teams exhibitied their products and competed in the competition. The list of winners is as follows:
GOLD AWARD
| | | | |
| --- | --- | --- | --- |
| NO | FACULTY | TITLE OF PROJECT | NAME OF PARTICIPANTS |
| 1 | FEST | A Compact Penetration Testing Box: An Automated Hacking and Recovery Tool based on Raspberry Pi and Kali | Dr. Abudhahir Buhari, Nasarudin Daud, Valeriano A. Dasalla, Zakariyya Abubakar Yau |
| 2 | FEST | Pathogenic Waterborne Bacteria Detection via Digital DNA Biosensors | Rishiruben Sivabalan, Md Toriqul Islam, Nur Azura Syazhlin, Tharoah Hasan Al-Kebsi |
SILVER AWARD
| | | | |
| --- | --- | --- | --- |
| NO | FACULTY | TITLE OF PROJECT | NAME OF PARTICIPANTS |
| 1 | FEST | Smart Car Parking App Using Advance License Plate Recognition | Dr. Fares Anwar, Noman Abdullah, Dr Abudhahir Buhari, Dr. Tadiwa Elisha Nyamasvisva |
| 2 | FEST | Highway Energy Harvester | Muhammad Rafiq Bin Zahri, Meishella Yustin, Fatin Najwa Bt Zakaria , Syed Muhammad Aiman Bin Syed Mohd Hamdan |
| 3 | FEST | Sustainable Bubble Deck Slab Incorporating with Quarry Dust in Self-Compacting Concrete | Dyg. Siti Quraisyah Abg. Adenan Nur Fatin Nadia Shamsudin Muhammad Sufyan Azman Ahmad Khairulazri Kamaluddin |
BRONZE AWARD
| | | | |
| --- | --- | --- | --- |
| NO. | FACULTY | TITLE OF PROJECT | NAME OF PARTICIPANTS |
| 1 | FEST | Examination Management System | Dr Tadiwa Eilsha Nyamasvisva, Wong Fui Fui, Sangeetha Valloo, Atiff Abdala |
| 2 | FEST | Sustainable Machining of Gas Turbine Engine Components Trough Reducing Cutting Force | Nor Aznan Bin Mohd Nor, Muhammad Zawir Jasmin Bin Zamzuri Jasmin, Muhammad Harith Bin Mohd Ala'uyun, Muhammad Fikri Bin Muhamad |
| 3 | FEST | Plastic (Polyethylene terephthalate) Degradation using Microbial Biotechnology | Sara Osman Mussa , Hoodo Ali Farah, Nursarah Binti Azhar, Jibreel Yusri Faraj |
| 4 | FEST | Degradation of Plastics (Polyethylene terephthalate, PET) using Pseudomonas aeruginosa Bacterial Culture | Fellycia Teh Mei Xin, Vinothienii a/p Vengatharajuloo , Justin Varughese, Rahma Hersi |
| 5 | FEST | Arduino controlled solar powered switching for street lighting | Mathan Ramesh, Sarathi Devi A/P Jagathesan |
| 6 | FBIHS | MAcS (Manuals for Accounting Students) | Muhammad Rusydan Rosman, Iszerya Jayaraman, Emmy Insyirah Othman, Jubaidah Mashod |
| 7 | CPSR | The Adjectives Pyramid | Cheah Ching Wei, Prof. Dr. Siti Maziha Mustapha |
| 8 | FABE | Application of Drone for Architectural Measured Drawing | Adil Farizal Md Rashid, Mohamed Yassin Bin Abdul Karim, Natasha Wong Jean, Nur Kholeeda Husna Binti Mohamad Saifullah |