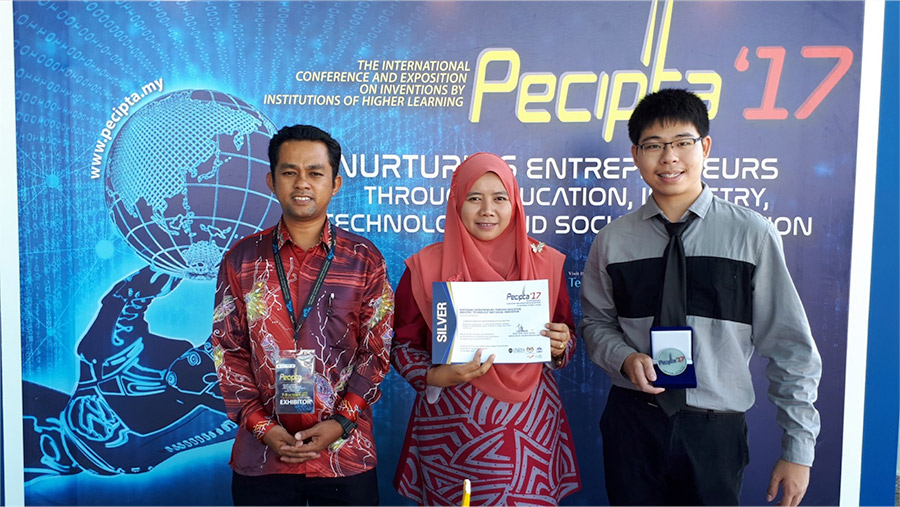 "Behavioral of River Stability for Mountain Rivers in Malaysia" is the name of the project that brought home a silver medal for IUKL by Prof. Dr. Roslan Zainal Abidin, Dr. Mohd Sofiyan Sulaiman, Ms. Nor Azidawati Haron, Mr. Goh Qui You, and their team leader, Assoc. Prof. Dr. Manal Mohsen Abood.
The project competed in the International Conference and Exposition on Inventions by Institutions of Higher Learning (PECIPTA 2017) which was held from 7 to 9 October 2017, at Stadium Tertutup Kompleks Sukan Negeri, Gong Badak, Terengganu. Mr. Mohd Firdaus Ma'as and team leader, Dr. Sylvia Chieng proudly represented IUKL as well in the event with their project, "Production of Bioethanol from Temukut".
Both teams received grants from the Ministry of Higher Education to participate in PECIPTA 2017, which received involvement from 40 public and private higher learning institutions, as well as seven polytechnics and two community colleges.
PECIPTA is a biannual event organised by MOHE, Malaysia together with a selected local university since 2001. This year the event was hosted by Universiti Malaysia Terengganu and Universiti Sultan Zainal Abidin. The aim of this event is to provide a platform for researchers from institutions of higher learning to showcase their innovative research products and services to the public.