At IUKL, you can start from where you are now and go as far as your dreams, talent and determination will take you. A Foundation may lead to a Diploma and a Diploma may lead to a Degree right here or at institutions around the world.
Below is a list of partner universities from Australia, United Kingdom, China, the Netherlands, New Zealand and Ireland that accepts transfer of credits from IUKL: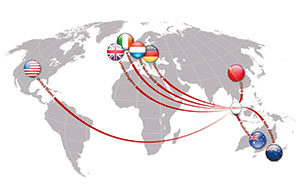 World Affiliations
See the list of affiliated universities available for Credit Transfer or Advanced Standing arrangements.