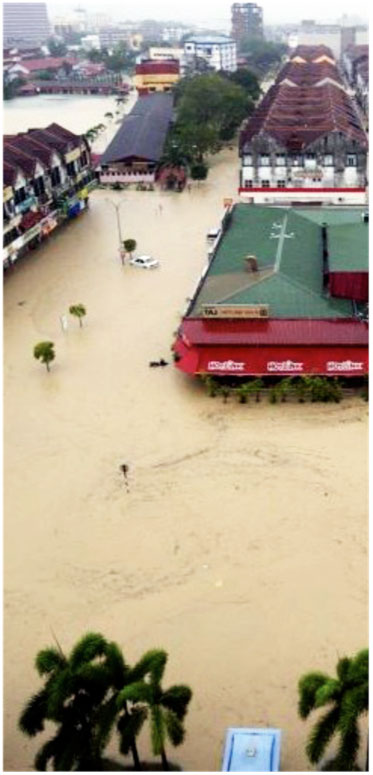 Floods in Malaysia are regular natural disasters which happen every year during the monsoon season. Besides due to its geographical location, most floods that occur are a natural result of cyclical monsoons during the local tropical wet season that are characterized by heavy and regular rainfall that strikes from October to March. Inadequate drainage in many urban areas also enhance the effects of heavy rain, though efforts are underway to resolve this. Floods cause damage to properties and also endanger lives and preparedness of the community and government agencies to handle an emergency flood situation is important to minimize losses.
Flood forecasting is an important component of flood warning, where the distinction between the two is that the outcome of flood forecasting is a set of forecast time-profiles of channel flows or river levels at various locations, while "flood warning" is the task of making use of these forecasts to make decisions about whether warnings of floods should be issued to the general public or   whether previous warnings should be rescinded or retracted.
Preparing the public for emergency flood response is outside the scope of hydrology although in an emergency flood situation, Department of Irrigation and Drainage Malaysia (DID) vehicles, boats and personnel are sometimes mobilized to assist in evacuation and related activities. To DID, in particular to the Hydrology Division, flood preparedness would mean preparedness to   provide flood warning and forecasting services. For the purpose of flood forecasting, DID has set up a central Flood Forecasting Centre (FFC) at DID Ampang. This center manned 24 -hours by teams working on shifts should there be any indication of impending severe floods in the country.
The main objectives of the seminar are as follows :
To highlight the flood forecasting procedure and technology available.
To identified various available flood control technology in arresting flood impact.