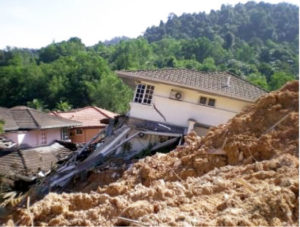 Natural Disasters namely floods, landslides, tsunami, sinkholes and earthquake are very frequent this days and it brings immense loss to lives and property. The International Strategy for Disaster Reduction (ISDR) defines a disaster as a serious disruption of the functioning of a community or a society involving wide spread human, material, economic or environmental losses and impact which exceeds the ability of the affected community or society to cope using its own resources.
In tropical countries like Malaysia, most landslides are triggered by heavy rainfall. From 1973 – 2012, the total economic loss due to landslides was estimated above US $1 billion. More than 100 hill slopes had been identified by Malaysian Public Works Department (PWD) as risky for possible landslides. One of the sectoral report of Malaysia clearly mentioned about 49 landslides cases   out of which 88% are recognised with manmade slopes. It also declares that along with poor designing, incompetency, casualness, raw input data are also contributing in this frequent fact of slides. The key problem which the control of landslide hazard is the prediction of landslide fatalness, successful landslide forecast can consumedly decrease the loss caused by landslide hazard.
However, these effects could be minimized and considerable losses of life and property could be avoided through improved risk assessment, early warning, disaster forecasting and monitoring. Risk assessment provides information about the combined effect of hazard and vulnerability, allowing improved risk reduction and mitigation. The outcome of early warning information on the onset of potential disasters can improve preparedness in the affected area.
The main objectives of the seminar are as follows :
To generate public awareness on landslide disaster in Malaysia.
To provide a platform for experts to share experiences and knowledge of the best professional judgement of landslides forecasting and controlling technology.