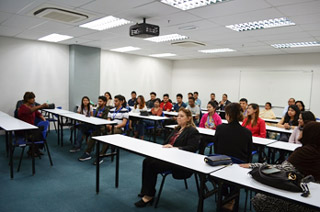 Twenty one MBA students and the management team from Uniglobe College (UC), Nepal visited IUKL as part of the Education, Culture and Tourism (EduCulTour) programme on 16 April 2018.
The IUKL Head of Academic and Industrial Linkages, Hanita Ismail said that introducing the EduCulTour programme is part of their new project.
The UC management team included the Academic Director, Professor Dr Radhe Shyam Pradhan, the Principal, Dr Nar Bahadur Bista and Programme Director, Ananta Raj Ghimire.
Hanita said that the 21 MBA students were also exposed to the MBA class and were later introduced to our traditional games such as Batu Seremban and Congkak. They also played a friendly futsal match and took part in the Cultural Performance Night.
A Memorandum of Understanding (MoU) was signed between IUKL and UC co-operating in the areas of education, research, sharing of expertise as well as offering short educational and cultural programmes.
During their one week visit, the students were taken to a manufacturing company, QP Industries Sdn Bhd in Beranang, a company under Protasco Trading, where they learnt the process of producing their best-selling product, Ultracrete Cold-Mix.
Towards the end of the programme, they visited Putrajaya and Kuala Lumpur.
"In KL, they went to the Museum and Art Gallery in Bank Negara Malaysia and were later taken on a-day trip to Port Dickson", Hanita added.
The programme ended with a closing ceremony to award certificates to the delegates.