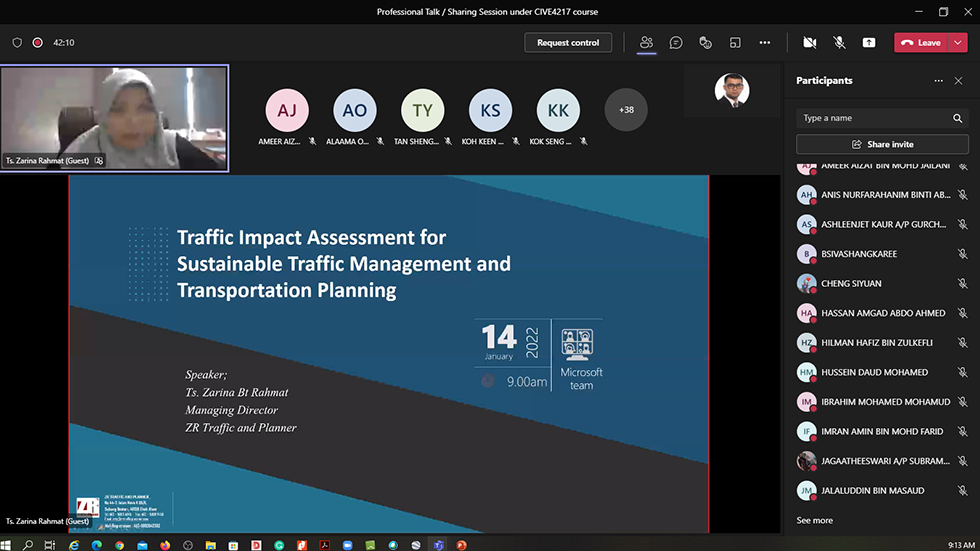 The online professional talk "Traffic Impact Assessment for Sustainable Traffic Management and Transportation Planning" was successfully organized in Sept/Oct 2021 semester by the Civil Engineering and Construction Department, Faculty of Engineering, Science and Technology (FEST). The talk was held on Friday, 14th January 2022, via the Microsoft Team platform. 55 students, mostly the final year Bachelor of Civil Engineering (Hons) students, attended the online professional talk, and Ts. Syed Khairi Syed Abbas moderated the session. The invited speaker, technologist Ts. Zarina Rahmat whom graduated with a Bachelor of Town Planning from Universiti Teknologi Malaysia (UTM) and a Master of Highway Engineering from Universiti Teknologi MARA (UiTM), is currently a Managing Director from consultant company ZR Traffic & Planner.
Ts. Zarina Rahmat is a transport planner with more than 15 years of experience in traffic engineering, traffic planning, traffic management plan, planning for public transport systems, and project highway planning. Besides that, she has mastered skills in transportation planning and technical designs. Previously, Ts. Zarina Rahmat also worked as a Project Director at ZBR Traffic Sdn Bhd, Lead Manager for Transport Planning Department at Gamuda Berhad, Associate Director at SNA Consult Sdn Bhd at Transport Planner at Perunding Trafik Klasik Sdn Bhd, and RA at Dasar Architect Sdn Bhd.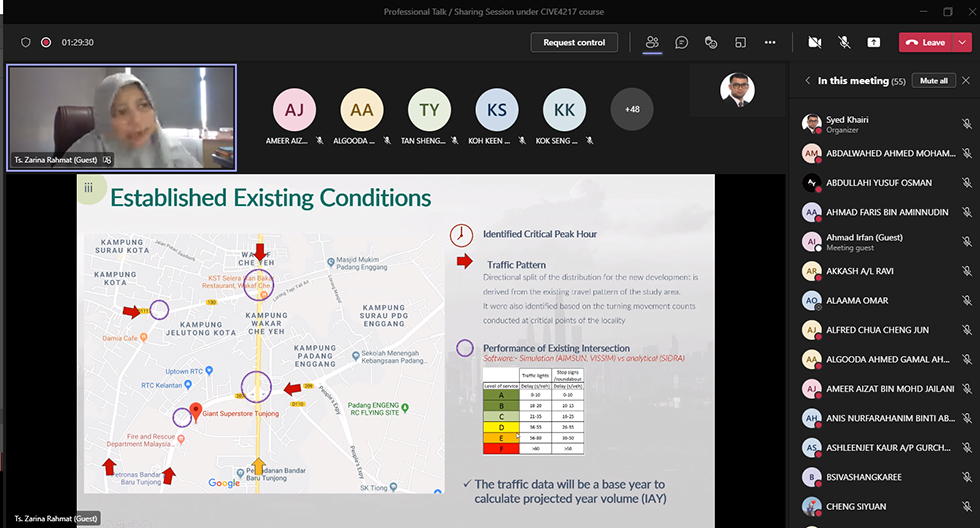 During the talk, she explained the traffic impact assessment and traffic study processes and gave several case study projects in Malaysia. Finally, the session ended with a question-and-answer session. The speaker advised the student that it is a bonus if students have knowledge and skills in any traffic/transportation engineering software. In this case, she highlights that one software called Sidra Intersection is the most commonly used for consultant companies. It is hoped that the talk would have given meaningful information to the Bachelor of Civil Engineering students and beneficial to them if they are plan to work as traffic and transportation engineers.
Prepared by: Ts. Syed Khairi bin Syed Abbas – Course Lecturer