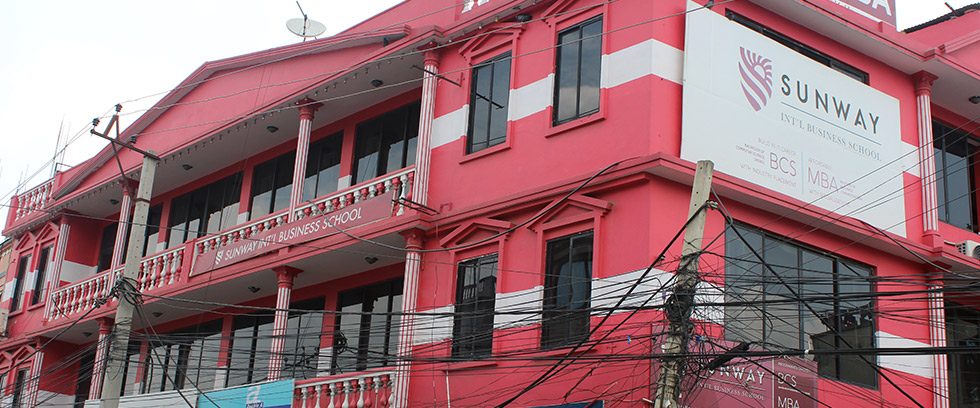 A Memorandum of Agreement was signed between Infrastructure University Kuala Lumpur (IUKL) and Sunway International Business School (SIBS) on 16th January 2016. SIBS is currently running IUKL's Bachelor of Computer Science (Hons) and Master of Business Administration programmes in Kathmandu, Nepal. This collaboration also covers student and staff exchange, as well as research and development.
Established in the year 2010 and situated at the heart of Kathmandu, Sunway has been providing business and IT education at Bachelors and Masters Levels in Kathmandu. Having established links and exposure to various universities abroad, Sunway has gathered significant experience in imparting Business and IT education for Nepalese students. As it is widely accepted that having a degree is not sufficient to secure a career, we at Sunway, prepare students to become serious contenders for various positions in both multinational as well as local companies. Sunway College is part of a wider education group which has four institutions namely:
At the same time, we encourage students to see themselves as job providers rather than job seekers. In order to achieve this, entrepreneurship skills run across all academic and non academic activities. We put significant emphasis on student centered learning, critical thinking and soft skills. Apart from providing students with adequate infrastructure and facilities, real life problem solving and case studies are incorporated as a regular academic activity. Sunway International Business School is affiliated to Infrastructure University Kuala Lumpur (IUKL), Malaysia.
Our Mission
To produce creative and highly skilled manpower to contribute to the development of the nation
Our Vision
To provide World Class Education at an affordable price.
To equip students with skills, technical know-how and knowledge to compete in the international job market.
To develop entrepreneurship skills in individuals. 
Programmes
Sunway International Business School has been offering the following programmes under the affiliation of Infrastructure University Kuala Lumpur, Malaysia:
Bachelor of Computer Science (Hons.)
Master of Business Administration
Student Clubs
IT and Youth Club
From representing Sunway International Business School in various IT events to conducting seminars and workshops at the college premises, IT club is very active on all co curricular activities. This club continuously researches on any gaps between the industry and our curriculum and designs short term training programmes for interested students. Besides, it also plays a crucial role in contacting potential employers for internship and placement services. All activities are fully supported and sponsored by the institution. This club is also involved in social activities for the greater good of people. Students visit remote schools and set up computer labs and provide necessary training to manage and run such labs. Apart from this, this club is actively involved in organizing Blood Donation programmes and raising IT awareness in general.
https://www.facebook.com/SunwayITClub/
Events and Sports Club
As the name suggests, this club organizes all sports and recreational activities of the institution. This includes organizing the annual sports event, fresher's party, student fashion shows and so on. The club also promotes Information Technology Education as a trendy sector to be in.
https://www.facebook.com/SunwayEventsAndSportsClub/
Placement Club
This club is an initiative of the Master of Business Administration students. The student involvement is very active in the club which helps other students to get placed in reputed organizations. Related skills training is also organized by the students with the help of eminent resource personality.