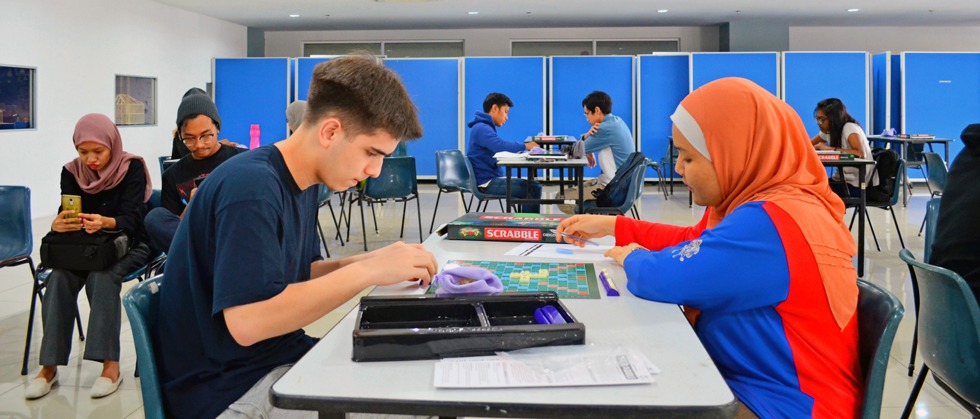 In 2018, the Faculty of Arts, Communication and Education (FACE) organised its second Scrabble Championship 'Improving Your English Language Skills through IUKL Scrabble Championship 2018' on 15 August 2018. This yearly event which was open to students from all levels and programmes was a great avenue for students to improve their English language and to showcase their Scrabble talent.
Compared to the FACE Scrabble Championship 2017 which was the first Scrabble competition held last year, this year's championship involved Scrabble Workshop 2018 aimed at giving opportunity to all IUKL students to learn scrabble skills before joining the competition. This workshop was held on 13 August 2018 at Rooms 208 and 207 (Block 11) prior to the IUKL Scrabble Championship 2018. The Beginner players who had never played this game, were introduced to the rules and nature of this game. They also had the opportunity to practise playing this game with those skilled students who wished to sharpen their Scrabble skills. This workshop was a great advantage to the beginners as well as skilled players who attended both slots.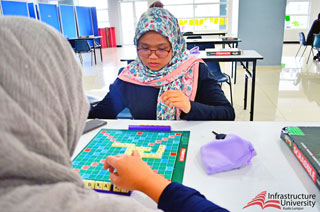 The IUKL Scrabble Championship 2018, held at the IUKL Gallery began at 8.30am with a welcoming speech by the Executive Dean of FACE, Prof. Dr. Faridah Ibrahim. The gallery was packed with lecturers, contestants and supporters from various faculties since the competition started with its first slot at 9.00am. The competition involved six slots for all players to compete and the final seventh slot was solely for the high achievers.
All the seven slots were judged by two judges; Prof. Dr. Faridah Ibrahim, and Prof. Dr. Siti Maziha, the Head of Education Department as well as the Head of Postgraduate Programme based on the highest total points scored by the players for each slot of this competition.
After the final seventh slot of intense scrabble matches consisting of a total of eighteen finalists, Nasrul Amir Bin Nasharuddin, a Bachelor of Arts (Hons) TESOL student again emerged as the champion for this year while the first runner-up, was won by Wan Nur Farhana Binti Wan Adli, a Diploma in English for Professional Communication (DEPC) student. Muhammad Farrizz Bin Saralfari, a Diploma in English for Professional Communication
(DEPC) student and Nur Amiera Natasha Binti Suhaimi, a Bachelor of Arts (Hons) TESOL student secured the second and third runners-up respectively.
FACE students were again the winners of this year's championship. All the winners were awarded a trophy and certificate. These prizes were awarded by the panel of judges to the winners. The other remaining participants received certificate of participation.
All players enjoyed competing in this event and look forward to participating in the next Scrabble Championship. At 4.45pm, this event ended with a thank you speech by Prof. Dr. Faridah Ibrahim followed by a photo session with the panel of judges, winners, participants and FACE academicians.
The IUKL Scrabble Championship 2018 and Scrabble Workshop were truly memorable to everyone who attended these events.
1st Event – Scrabble Workshop 2018
2nd Event – IUKL Scrabble championship 2018