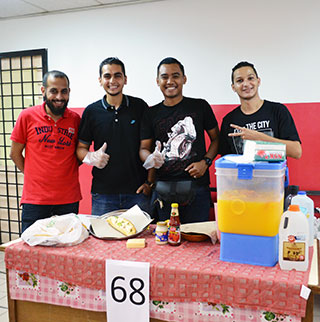 On the 9th  and 10th January, the Bachelor students undertaking the 'Entrepreneurship for Engineers' course and the Bachelor and Diploma students undertaking the 'Basic Entrepreneurship' course participated in the 'Entrepreneurship Event' not only as a requirement in their programme syllabus but mainly as a platform where they can apply their working knowledge of the principles of entrepreneurship.
This event, with the theme 'Cultivating Sustainable Entrepreneurs', was the first to kick off 2017.
First class ticket to triumph
At IUKL, it is their top priority to ensure students get a complete and fulfilling education as it is their passport to the outside world where they will surf the wave of success. IUKL believes that the field of infrastructure isn't just limited to buildings, construction and technologies, but also incorporates soft 'infrastructure' such as communication, language skills, commerce and information technology.
IUKL Entrepreneurship Event
The organiser of the event, Mr. Asokan Vasudevan, a lecturer from the Faculty of Business and Accounting shared in his welcoming speech that the students should not be discouraged if they have a small product or business, as successful businesses usually come from the sum of small efforts.
He added, "Not every student is expected to go out and create their own startup tomorrow, but from this event, you will be armed with a process that can be deployed at any point in your career".
The celebration of the entrepreneurial spirit was felt through the presentation of mouthwatering choices of food from different multiethnic backgrounds, eye-catching accessories and clothing, all displayed across the foyer and concourse hall of the university's Academic Block.
Behind closed doors
The event was meant to offer hands on experience and expose students to the circumstances they might have to encounter one day as an entrepreneur. Giving them a taste of the real world wasn't enough but to ensure that students not only gain exclusive experience but the proper way of thinking as well.
This event was carried out successfully and brought together IUKL staff and students in celebrating their mutual passion in entrepreneurship.