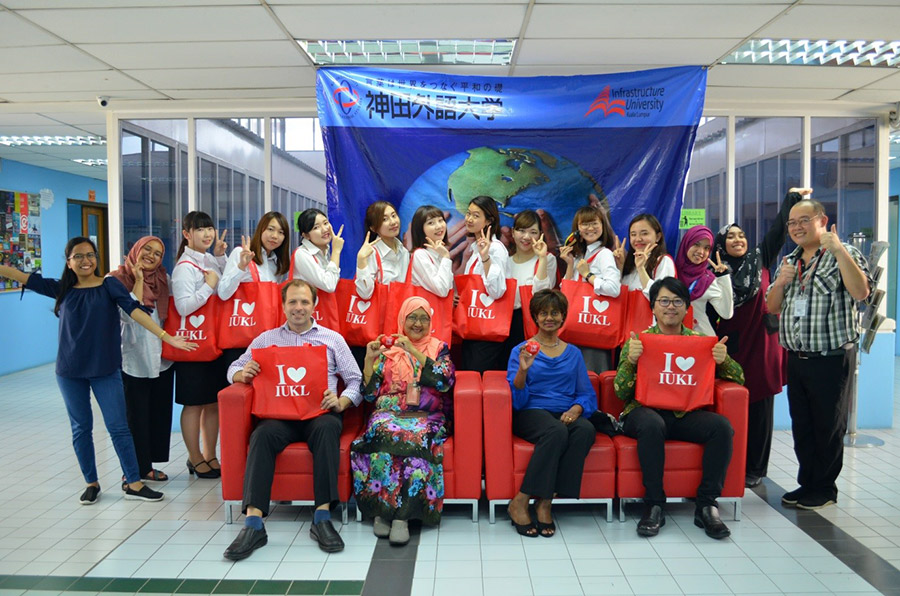 Kajang: Nine students from Kanda University of International Studies (KUIS), Chiba, Japan have participated in the 'KUIS-IUKL Cultural Exchange Programme 2018' in the Infrastructure University Kuala Lumpur (IUKL) from 25 February to 18 March 2018. The all girls team members were Hirose Marino, Miyake Shoko, Kobori Mai, Koganezawa Shouko, Miura Kasumi, Wajima Rina, Kadota Risa, Wakana Yukiko and Kurotaki Hitomi. This programme was initiated by Aeon Compass Co. Ltd. (Japan) and J-Horizons Travel (M) Sdn. Bhd. The 3-week experience in IUKL could not have been a memorable one without the 'buddy-system'.
According to Mr. Harold Poong, the coordinator for the exchange programme, the buddy-system is like a 1-to-1 IUKL students paired up with KUIS students. The system assigns our IUKL students to be their best friends here in Malaysia.
"My students are very happy with the 'buddy-system' in IUKL. We have sent out 21 groups of students from KUIS to other institutions in different countries, IUKL is the only one with the 'buddy-system'. I am glad to see how my students become so attached to IUKL students," said Mr. Toru Ichikawa, Manager of International Affairs, KUIS.
The buddies from IUKL were students currently in the Bachelor of Arts (Hons) in English for Professional Communication (BEPC) and Bachelor of Arts (Hons) Teaching English to Speakers of Other Languages (BA TESOL) programmes in the Faculty of Arts, Communication and Education (FACE); Siti Nadhirah Abdul Razak, Mohamad Danial Faiq Ahmad Razali, Muhammad Fadhli Hanapiah, Muhammad Fikri A. Manaf, Nur Eileena Abdul Halim, Syed Jad Faruq Syed Ahmad, Shahlin Othman, Abdul Rahman Ariffin Abdul Rahim, Nasrul Amir Nasharuddin, Intan Nurfatehah Ezaha, Muhammad Amirul Mohd Zaini, Nursyuhaiza Che Azimi, Nur Amiera Natasha Suhaimi and Nur Illiyiana Mohd Ekhwan Dias.
The aim of the 'KUIS-IUKL Cultural Exchange Programme 2018' was to highlight our culture, society, history, economy and the development of English education system in Malaysia to the Japanese students. The students also attended classes on general English, basic Bahasa Melayu, intercultural communication, presentation skills and English for Specific Purposes. The instructors involved in this programme were Prof. Dr. Mohamad Amin Hassan (external), Dr. Norzita Yunus, Sr. Dr. Siti Nur Aliaa Roslan, Mdm Suraya Amirrudin, Mdm Kamaljeet Kaur, Mr. Jason Andrew Polko and Mr. Harold Poong.
In addition, the programme also offered interactive activities such as treasure hunts, traditional dance, barbeque session and cooking classes for these students. The Japanese students got to learn Joget and Inang from IUKL Sanggar Budaya members. They also cooked kuih ketayap and made sweet glutinous rice ball soup (tong yuan) for their tea-break. During weekends, these students went to Malacca, Genting Highlands, Putrajaya Mosque, Kuala Lumpur, Istana Negara, Central Market and other places. They also had the privilege to try out our Malaysian delicacies such as Nasi Lemak, Roti Canai, Kuih Akok, Satay, Cendol, Curry.
The beautiful memories and powerful bonding of friendship between the students could be witnessed at KLIA during their departure. As the students exchanged hugs, heavy hearted goodbyes marked the end of the programme, and the beginning of a true friendship that will last forever. The success of this programme has opened many doors for future collaborations between IUKL and KUIS.