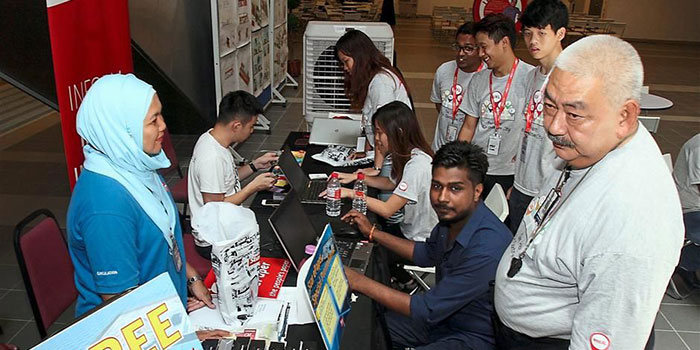 ALL new and existing students of Infrastructure University Kuala Lumpur (IUKL) will receive a one-year free subscription to The Star ePaper.
IUKL chief operating officer Lee Geok Chai said it had sponsored RM50,000 worth of subscriptions to provide The Star ePaper to students, staff and the library.
"This is a win-win situation, we hope to offer a year's free subscription to all new and existing students.
"Youths nowadays prefer to get news online or on-the-go, hence they are the perfect target group for the ePaper.
"Hopefully the one-year free subscription will create a habit of reading news and help them gain knowledge," Lee said when met at its open day held at the De Centrum City Mall in Kajang.
Lee said the open day is usually held three times a year, a month before new intakes.
"This is a chance for school-leavers to not only speak to the marketing staff but also academic heads from relevant faculties.
"It is like a one-stop centre for them to get all the information they need," he said.
Arunima Hossain, 22, a marketing and communications student, said she was happy to have made the decision to study in IUKL.
"I got to know about the university at an education fair in Bangladesh.
"I researched online and found that it is one of the best private institutions in Malaysia," she said while signing up for The Star ePaper.
Aside from the free one-year subscription, a special price was offered to students who signed up for another year.
Subscribers also received Starbucks and Sakae Sushi vouchers as well as Men's Biore double scrub facial foam.
Those who downloaded the ePaper at the event also received two boxes of Mandheling Black Coffee and a Men's Biore product.
Many visitors were also seen registering at the myStarjob.com counter at The Star booth during the event.
The web portal caters to jobseekers and employers.
Source: The Star Online