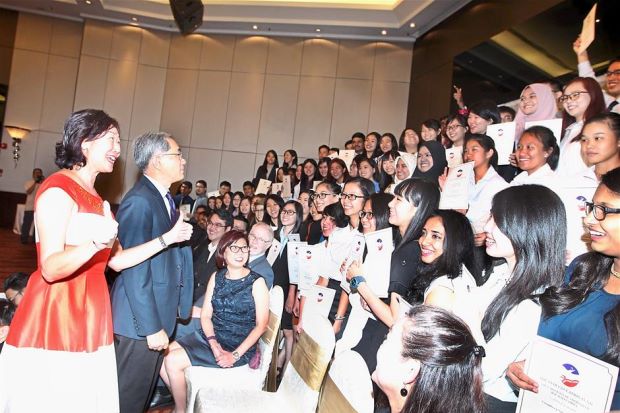 They are 'stars' in their own right as they've proven against all odds that they're worthy of the study awards presented to them.
TWENTY-THREE is about the age when tertiary students graduate and are all eager to step into the working world. It is also the number of years the Star Education Fund has been lending a hand to students to get into colleges and universities so they can pursue their dream of higher education.
Since it was set up in 1994, The Star, together with its partners-in-education have awarded RM108mil worth of scholarships to 3,582 recipients.
At its awards presentation held in Petaling Jaya, Selangor, last week, 150 students received RM7.1mil in scholarships.
"Today, education has become one of our basic necessities to survive and succeed. However, not everyone can afford to send their children for tertiary education," said Star Media Group Bhd group chief operating officer Calvin Kan at the ceremony.
He added that the Star Education Fund was established to provide education opportunities to bright and deserving, needy or underprivileged young Malaysians.
"Throughout the years, we have collaborated with some of the finest education institutions and provided a wide range of scholarships in fields such as architecture, accountancy, biomedical science, engineering, fashion, design, IT, pharmacy and psychology," Kan said.

It's one for the album as award recipients pose with Kan and Goh (second row, seated 12th and 13th from left) and representatives from the Star Media group and the fund's partners-in-education.
He thanked the education institutions that have partnered with The Star, saying that their contribution has been instrumental in developing the young. Also present at the event was the The Star editor-in-chief Datuk Leanne Goh.
The wish to give deserving students a chance to make good through a diploma or degree was mutual. "Working with The Star is a good way of getting the message to the students. Through the newspaper, they get to learn about the scholarships," said Heriot-Watt University Malaysia provost and chief executive officer Prof Robert Craik.
And while academic achievement is one of Heriot-Watt University's criteria when selecting candidates, it considers the applicant's background, as those facing financial hardship also deserve to get a good education.
HELP University shared this sentiment. Its customer marketing department senior manager, Yap Chen Leong, said having a solid education is a pillar of success.
"Our underlying principle is to help people through education. It's the reason we do what we do," he said.
Yap added that while students must be good academically, the university also looked at their financial situation and if they are well-rounded individuals.
"It is not just about giving them scholarships. We also groom our scholars to be better people by encouraging them to do community work. We don't just want a good graduate, but someone who contributes to society."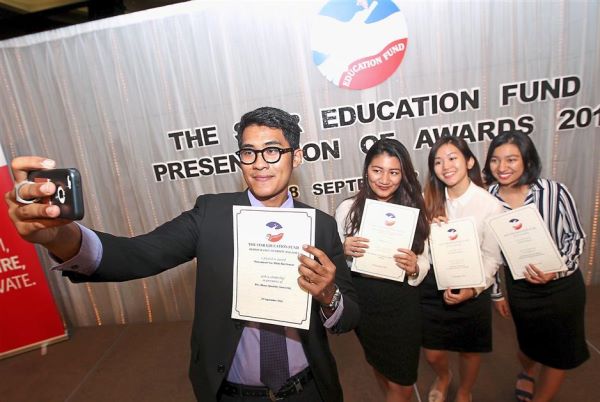 (from left) Hilmi, Bhanu, Cherrie and Ashwini take a scholarship selfie.
Awarding around eight scholarships worth RM1.1mil, the University of Nottingham Malaysia Campus will continue providing scholarships under the Star Education Fund.
"Some students, because of the lack of (financial) resources, are unable to pursue their further studies," said its Faculty of Arts and Social Sciences dean Prof Lee Chew Ging.
Prof Lee said that grades matter because of the varsity's high entry requirement, but their involvement in extracurricular activities, is also taken into consideration.
Sunway Education Group public relations director Jerrine Koay said the varsity awarded 21 scholarships through the Jeffrey Cheah Foundation.
She urged students to apply to as many organisations as they can, to increase their chances of receiving a scholarship.
Sunway Education Group was one of the top contributors for this year's Star Education Fund as it awarded scholarships worth RM1.5mil.
Infrastructure University Kuala Lumpur president and vice-chancellor Prof Dr Roslan Zainal Abidin said, "Education is everything to the younger generation. Without it, one is unable to build a future."
Tunku Abdul Rahman University College (TARUC) president Datuk Dr Tan Chik Heok said the institution's mission is to help needy students who excel in studies. It will continue to increase the number of scholarships given out to students each year, he added.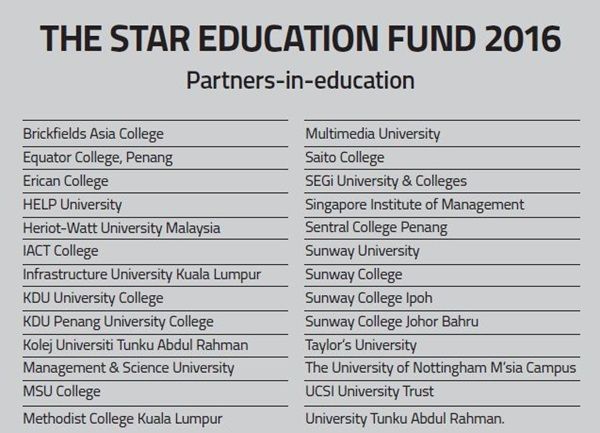 "We are bringing up the next generation who must be educated as they are the future of this nation," he said.
UCSI University trust head Shannen Choi said the university focused on the family background of a student when awarding the scholarships.
"Higher studies can really change one's life for the better," she said.
Determination pays off
Cherrie Pek Ming Li has always known that she wanted to study business.
"I was influenced by my father, who used to run a small store selling hi-fi systems, and my brother, who studied business. They would often talk business at family gatherings," she said.
But her father had retired and money was tight. So when Cherrie heard about the Star Education Fund, she was determined to get a scholarship.
"Competition is stiff these days, so I had to send more applications to increase my chances of securing an interview."
The 19-year-old, who scored 10As in her SPM examinations, was selected for five interviews. She is now pursuing a Bachelor in Business at Sunway College (Victoria University).
The scholarship has eased the financial burden or she would have had to take a National Higher Education Fund Corporation (PTPTN) loan, added Cherrie.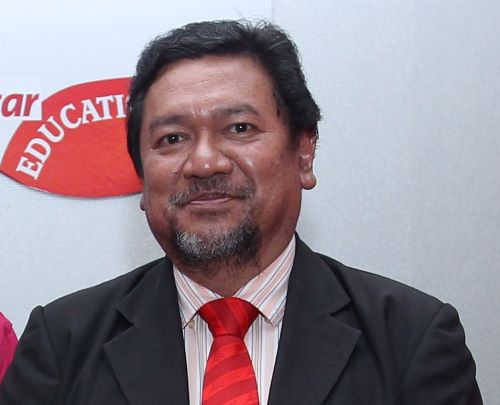 Prof Dr Roslan says that one cannot build a future without an education.
Joey Chua Siew Yen was another determined lass. As both her parents have retired, she knew she had to ace her SPM examinations for a shot at tertiary education.
Her hard work paid off when she got her results – eight A+ and two As. Joey is currently studying engineering at KDU Penang University College, and is loving every minute of it.
"Engineering is my passion, so studying it is really fun," she said.
Teo Shui Tong's happy disposition belies the tough years he's been through. The 18-year-old spent weekends helping his father sell fish and vegetables in his Batu Pahat neighbourhood in Johor.
Still, he managed to scored 10As and secured himself a Star Education Fund scholarship.
"University tuition fees are expensive," said Teo who is now pursuing a Foundation in Accounting and Finance at UCSI University.
He expressed his gratitude, promising to strive for the best.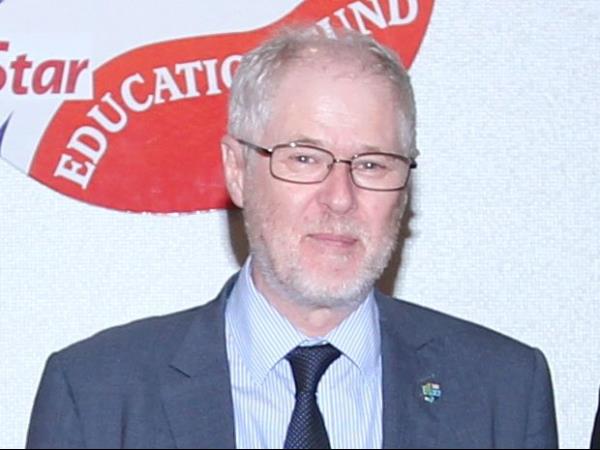 Craik is of the view that those facing hardship also deserve a good education.
But selection wasn't based on SPM results alone, as emcees at the awards ceremony, Jason Kean and Sanmantha Khoo would tell you.
Both received the Star Education Fund scholarships in 2015 and shared their interview experience with the crowd.
Sanmantha was in the United States under a student exchange programme when she received the call from The Star to attend an interview. But she was not flustered. She requested for a Skype interview and video-conferenced her way to a scholarship.
Jason, on the other hand said he had watched 10 YouTube videos on how to ace an interview. Both of them are now pursuing degrees in their dream fields – Jason is studying chemical engineering and Samantha, communications – at Taylor's University.
Challenging backgrounds
Twenty-year-old Ng Jia Yi was not going to let her misfortune drag her down in life. She lost her father two years ago forcing her mother to weave baskets for a living.
Ng applied for three scholarships and struck gold with the Star Education Fund.
"I am both surprised and thankful to receive the scholarship which is only awarded to top scorers," said Ng, who scored three B's in her STPM.
"Do not ever give up on yourself and studies even if you are not a top scorer," she said. She aspires to be a successful businesswoman so that she can provide for her mother and younger brother.
Perasasi Nair, 22, was raised by her mother after her father passed away in 2007 when she was just aged 12.
TAR UC president Datuk Dr. Tan Chik Heok is proud of the school alumni as they had earned the good reputation of TAR UC in the industry.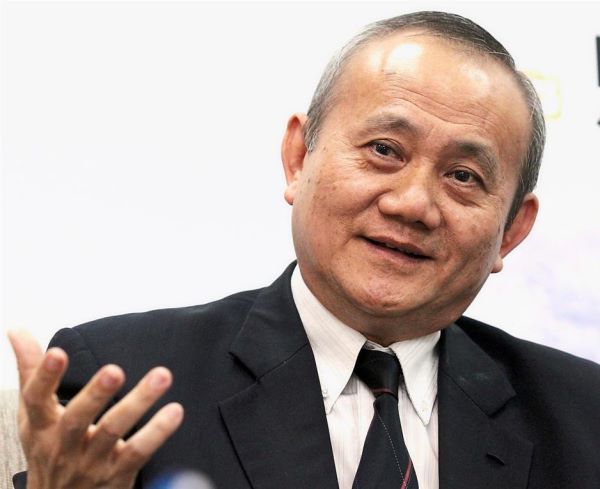 Dr Tan says the number of scholarships will be increased each year.
The second youngest of five siblings, she put studies on hold for two years after scoring all B's for STPM in 2013, to work as a clerk to save up for her degree.
However, she knew it would not be enough and started searching for scholarships and was finally awarded with one.
"I will not give up on my education. I think that everyone has to set their goals to achieve them," said Perasasi, adding that she was simply lost for words when she was notified of the scholarship.
Both Ng and Perasasi are pursuing degrees in business. Ng is majoring in Business Management in SEGi University, while Perasasi is majoring in Business Studies in Sunway University.
While many students find it difficult to focus on learning, Muhammad Nur Hilmi Osman, had to juggle between his studies and helping out his father at the family fruit stall every night.
The 20-year-old continued to work full time in a local pizza outlet for a year after completing foundation studies in 2014 to save up for his degree.
However, he can now resume his dream to obtain a Degree in Quantity Surveying after receiving a full scholarship from the fund.
Muhammad Nur Hilmi expressed his gratitude to the Star Media Group and Heriot-Watt University Malaysia for providing him with the opportunity to "achieve his dream".
"Education is everything to me because it is a stepping stone to a better future," he said.
Sisters, Bhanu Meera, 19, and Ashwini Krishnan, 18 were both awarded scholarships. Bhanu is pursuing a Foundation in Arts leading to bachelor's degree in education at the University of Nottingham Malaysia Campus, while Ashwini, is studying mass communication at HELP University.
The parents of the girls were relieved.
"University fees are very expensive. It would cost us at least RM100,000 to put our children through tertiary education," said their father Kris Krishnan while mother Fran Siew was "so thankful" for the study awards.
Joanne Yew, whose daughter is an award recipient, said the scholarship is much appreciated because "it helps those who want to study but do not have the funds."
The Star Education Fund has to date helped thousands of students move up through education.
As Kan aptly said quoting an old saying: If you give a man a fish, you feed him for a day. But teach a man to fish, and he would eat for a lifetime.
"Likewise, provide a child with a solid academic foundation and proper guidance, and he will be resourceful for the rest of his life," he added.
Source: The Star