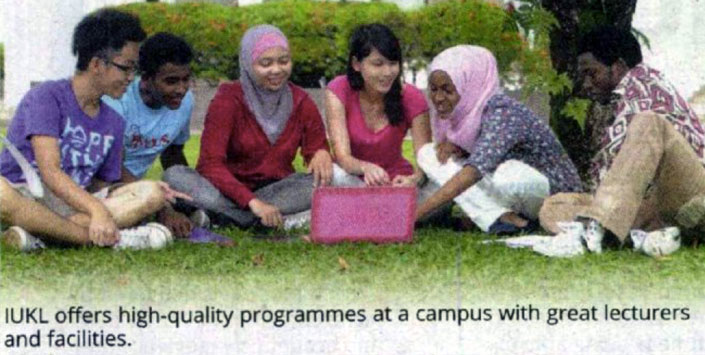 In view of currency fluctuation, studying abroad can be a costly option to earn a quality degree. However, you should not give up on your dream. The 2+1 collaborative programmes introduced by Infrastructure University Kuala Lumpur (IUKL) can be an affordable and better choice for you to pursue a quality and recognized degree overseas. These collaborative programmes give students an opportunity to complete their degree abroad in just one year. This can tremendously cut down the cost of study, at the same time allowing students to take advantage of a cross-cultural experience. At the moment, IUKL offers 2+1 collaborative programmes for undergraduate study, which enables students to study for two years at IUKL and one year at one of its partner universities abroad.
Progression opportunities include progression from a diploma at IUKL to the second year of a degree overseas. There are six types of financial assistance available in the form of scholarship, tuition fee waiver, loans and flexible payment scheme. All these are put in place to allow you to achieve your ambition at ease. IUKL believes that education should be made available for everyone. In addition to IUKL Scholarship, IUKL Sports Excellence Scholarship and Tuition Fee Waiver Scheme, students can also apply for loans and scholarship from Mara, PTPTN and EPF, among others.
As the first infrastructure university in Malaysia that emphasizes the integration of the hard and soft aspects of infrastructure, IUKL aspires to produce technopreneurs and skilled manpower with outstanding communication, technological and managerial skills. The university's programmes are recognized and accredited by professional bodies locally and abroad. They are approved by the Education Ministry and Malaysian Qualifications Agency. Two of the university's degree programmes, the Bachelor of Civil Engineering (Hons) and the Bachelor of Electronics Engineering (Hons), are recognized by the Board of Engineers Malaysia and the Washington Accord, an international agreement among bodies responsible for accrediting engineering degree programmes.
IUKL also receives professional recognition from various local and international professional bodies Board of Architects Malaysia, Land Surveyors Board, Royal Institution of Surveyors Malaysia, CISCO, International Organization for Standardization (ISO) and Association of Chartered Certified Accountants (ACCA), among others. Routes connecting international education are provided through the cooperation between IUKL and several international universities in the UK, the United States, Australia, New Zealand, Ireland, China, the Netherlands and Germany.
IUKL Info Day To introduce students to what the university can offer, IUKL Info Day will be held on Sept 12 and 13 from 10am to 4pm at its 100acre (40.5ha) campus. The September intake is in progress. You can start a programme at IUKL with only RM100 and enjoy a RM500 rebate if you register on the spot. Apply now and be a part of the IUKL community to pursue your dreams. Scholarships and tuition fee waiver of up to 60% are offered to students who excel in their studies. Study loans from PTPTN, Mara and Yayasan Negeri are also available.
For more information, call 1800 88 STUDY (78839) or visit www.IUKL.edu.my