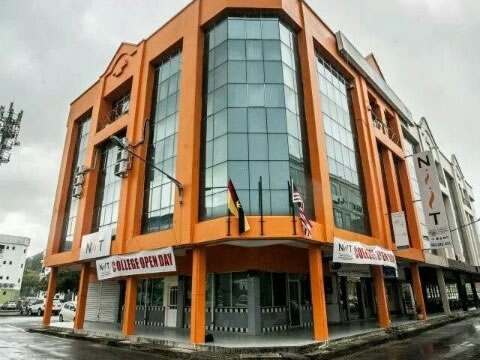 KUCHING: NIIT College here has entered into a Memorandum of Agreement (MoA) with Infrastructure University Kuala Lumpur (IUKL) last Friday, allowing students here to pursue their undergraduate degree courses in particular the Degree In Accountancy (Hons).
NIIT College's managing director Anderson Voon said the move will  offer students the opportunity to pursue their undergraduate studies locally with one of the prestigious universities in Malaysia, IUKL.
"Students have the flexibility to complete their studies locally while allowing them to save time and cost.
"We are tying up with IUKL to offer 3-year degree courses and six months of industrial training for students here," he told the media after the MoA signing ceremony held at Riverside Majestic Hotel on Friday.
Earlier in his speech, Voon said IUKL has been providing quality education and excellent professional services in various fields being in the education industry for more than 15 years.
IUKL was rated as an "Excellent" (Tier Five) full-fledged university in 2011 and 2013 Malaysian Qualifications Agency (MQA) Rating System for Malaysian Higher Education Institutions.
Voon added, "With the recognition (that IUKL has achieved) such as Board of Engineers Malaysia (BEM), Board of Architects Malaysia (LAM) and Association of Chartered Certified Accountants (ACCA) just to name a few, our college would be delighful to be working together for the programmes offered here in NIIT College."
Voon explained that the Degree in Accountancy (Hons) offers specific knowledge of accounting, finance, taxation, auditing, costing, management and economics.
He added the aims of the programme are to produce competent and dedicated accountants who possess the attributes and skills required in the accounting profession and to develop a holistic understanding of business operations, particularly in all functional areas of accounting.
Voon further said through industrial placement at established corporations, students will be able to have valuable hands-on experience in real-life working environments.
"As we are all aware, the Sarawak Corridor of Renewable Energy (SCORE) is a major development project that will transform Sarawak into a fully developed state.
"The success of SCORE will depend on the strength of the state's institutional capacity.
"One of the primary means to strengthen the institutional capacity is by training its people to achieve a certain level of competency so that they are better able to contribute to the state's development goals," he observed.
Notably, the MoA signing between NIIT College and IUKL was to foster collaborations in several areas.
Those areas include to allow eligible students who have successfully completed their diploma programme at NIIT College to further their studies to degree programme at IUKL, enable NIIT College to seek advice from IUKL on matters concerning the programme and curriculum developments, allow NIIT College to use IUKL's educational, recreational and sports facilities subject to the terms and conditions agreed by both parties and establish long-term relationship in academic activities between the two institutions.
At the MoA signing, NIIT College has also awarded scholarship to six students from Kuching and Sibu who had obtained excellent results in their 2015 Sijil Pelajaran Malaysia (SPM) examination.
These scholarships were fully sponsored by NIIT Associate Partner and Regal Group.
Source from Borneo Post