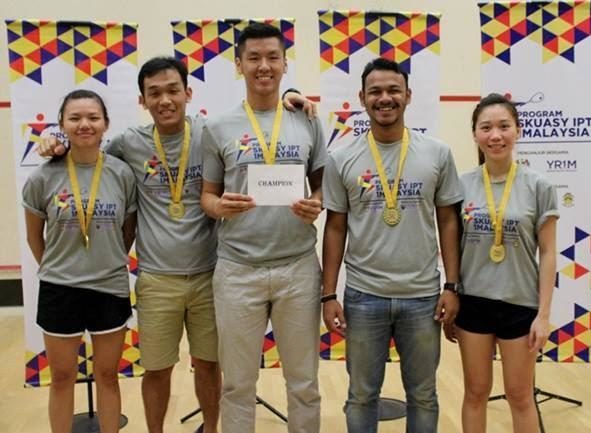 IUKL was crowned champion for Division 2 (amateur) in the 1Malaysia IPT Squash Team Championship Programme. In the final round, IUKL beat University Malaya (UM) to finish top while University Kebangsaan Malaysia (UKM) edged Tunku Abdul Rahman University College to secure the third place.
The 4-day event took place from 26 to 29 May 2016 at Bukit Jalil National Stadium. It was organized by Yayasan Rakyat 1Malaysia, Squash Racket Association Malaysia (SRAM) and University Malaya. It was a successful event with the participation of 119 players, comprising 27 teams from 14 universities and polytechnics.
Congratulations to IUKL champions; Izzazulhilmi bin Idris, Teh Chi Ming, Desmond Lee Kok How, Adele Han May Jen and Vivian Tan Yi Ru. The winners brought home RM1,000 and a gold medal. We wish all of you continued success and keep up the effort to elevate the University name in the sports arena.